Olympic Stadium
Montreal, QB


New York Mets at Montreal Expos


July 24, 2003

By Ken Schlapp
This is the day I leave the country to see baseball in a foreign land, or at least Canada. My companion for Fenway Park, Vinnie, was not able to continue the journey with me, so after dropping him off at Back Bay train station, I continued on my journey to Montreal, with a brief stop in Maine. I know this did not make any sense, but I wanted to pass through all 48 lower states during my trip. Therefore, I had to drive up I 95 through New Hampshire and up to Maine for a gas and food pit stop, before backpedalling and heading north through New Hampshire and Vermont up to Quebec.
My drive went smoothly until I got to the border. The Canadian agent checked my passport, looked into my car, and asked why I was visiting Canada, what I had in my car and specifically if I was bringing any alcohol into Canada. I said "no" to the alcohol and that I just have a month's worth of clothes and Souvenirs from my trip. I guess my word was not good enough, because he asked me to pull over, open my trunk, and wait on the bench while they go through my car. Needless to say, my car was packed to the hilt and in an order where it was easy for me to take only what I needed into each stadium and hotel. That, however, did not stop him from going through every bag and box in my trunk, without putting it all back in quite the same order as it was prior to his disruption. The interesting thing though, was that they found the bottle of wine I received as a gift from the Wyndham Hotel in Miami, which I forgot was there. After giving me the third degree about the alcohol, they finally let me go, but not before taking up an extra 45 minutes of my time.
Happy to get out of customs,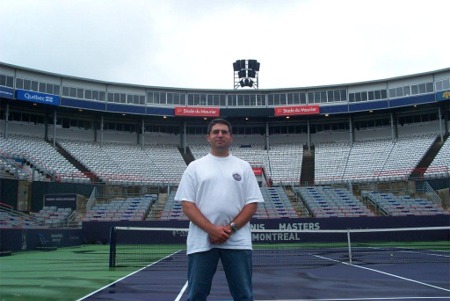 I was on my way to Jarry Park, or at least what was left of it. Jarry Park was the first home of the Montreal Expos. They played their first 8 seasons in this small ballpark from 1969 to 1976. When I say small, I mean it. It only held 28,456 fans for each game. It did have an interesting attribute to it though. There was a public swimming pool behind the short right field fence that sometimes entertained baseballs as swimmers that dove in on long home runs, such as one hit by Willie McCovey on August 24, 1969.
Although baseball is no longer played at Jarry Park, some of the stadium still exists. I was able to contact Peter Robitaille, who is the coordonnateur du CTPJ, which in English is the coordinator of the Jarry Park Canadian Tennis Center. As you might realize, here in Quebec, everything is in both French and English, with the heavy majority in French. My background is French, and I can speak it well enough to get by, but not fluently, so I enjoyed the challenge of attempting to converse in French as much as possible. Speaking French with Peter was not necessary though, because he spoke English quite well, and was a great person to spend the afternoon talking about sports.
Back to the baseball part, sort of. After the Expos moved into Olympic Stadium in 1977, not much went on at Jarry Park (or more appropriately Parc du Jarry) until 1995, which is when the Canadian Masters Tennis Tournament (Canadian Tennis Open) began to be held here annually. Looking in on the tennis center, which also changed its name to Stade Du Maurier (Du Maurier Stadium); it is hard to believe that baseball was once played here. It is quite small or simply the proper size for Tennis. Peter told me that only the bowl section behind home plate exists now as it was for baseball. The seats and stands down the lines were taken down, but eventually the seats were used in the tennis stadium. The other thing left from the old stadium is the pool that is still in the same spot. The public pool outlasted the baseball stadium! Like many of my experiences on this trip, the best part of my visit was making a new friend in Peter. He invited me to come back and join him to see a Montreal Allouettes game, which is Canadian Football. I have not done so yet, but I would love to someday.
Well, time to leave the old and head to the new, o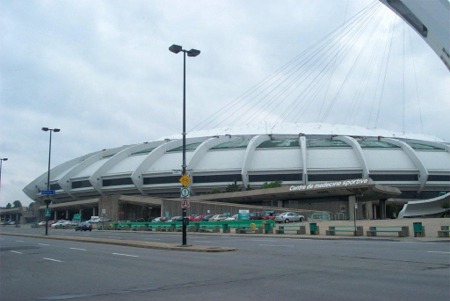 r at least Stade D'Olympic or Olympic Stadium, which is how most of us are used to calling it. The special part of this stadium for me is that my contact here is a special one. I used to play basketball in LeFrak City, Queens with Omar Minaya, who was the Expos General Manager at this time. Every Tuesday night for many years, I played full-court basketball at a gym in LeFrak City with my brother, Omar and many others, which I miss doing to this day. Only, back then, I had no idea that Omar had anything to do with baseball. I just knew he had a nice jump shot from the corner. When the Mets hired some guy named Omar Minaya to be their assistant GM, I was talking to my brother about it and he told me that it was the Omar we played basketball with. Although, I never got the chance to play hoops with him again, I did contact him about my trip, and he quickly made sure I had good seats behind home plate for the game. Although, with the Expos poor attendance, obtaining a good seat would not be a problem. Unfortunately, he was not around to visit me this game, but he did send his assistant, Marcia Schnarr, to pay me a visit during the game. She brought me all kinds of information on the Expos and Montreal in general, which was incredibly nice. Thanks again Omar and Marcia, I really appreciated your kindness.
The Expos began playing in Olympic Stadium in 1977, which was the year after the 1976 Montreal Summer Olympics. Therefore, the stadium, like many others at this time was built for multipurpose use. It first served as the main stadium for the Olympics opening and closing ceremonies as well as for track and field events. Once the Olympics were over, Canadian Football games for the Montreal Allouettes were played there in the fall and winter of 1976, before the Expos began play here in 1977. The Allouettes continued to play here until 1986, before disbanding, restarting, and playing here again from 1996 to 1997.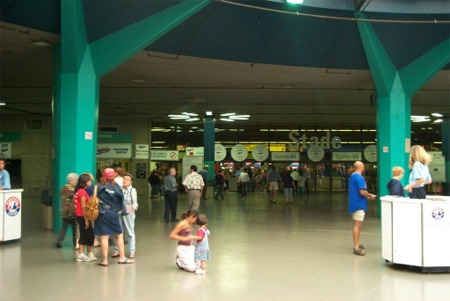 The problem with playing both CFL games and baseball games in the same stadium is that Canadian Football Fields are 30 Yards longer and 3 yards wider than NFL fields in the States. This means that due to the dual-purpose nature of the stadium, that seating for baseball is worse here than for typical dual purpose stadiums, which is bad to begin with.
This stadium had other problems from the start as well. It was intended to be completed with a retractable roof in time for the start of the 1976 Olympics, but due to labor strikes and funding difficulties, the roof was not completed until 1987. The designs of the stadium included a tower to, hold, open, and close the retractable roof. This tower is the tallest inclined tower in the world, but the only problem with it, is that it does not work properly for its intended use. It could not be retracted until 1988, and then only if winds were less than 25 miles per hour. The roof itself was composed of an orange colored Kevlar, which ripped several times and even caused rainouts in a domed stadium.
The stadium was then remodeled in 1991. Home plate was moved closer to the stands and 12, 000 seats were removed, since the view from them was so poor. Further remodeling was completed in 1998 and 1999. In fact, in 1998, the stadium was back to open air, while they built the permanent blue roof, which was installed for the 1999 season. Although, that did not work smoothly either. Snow and ice caused the roof to partially collapse in January of 1999, before becoming a permanent structure after repairs were made again.
In 2003, the problems surrounding the Expos are quite different. The fan support of the team has dwindled significantly since 1994. The Expos had success, both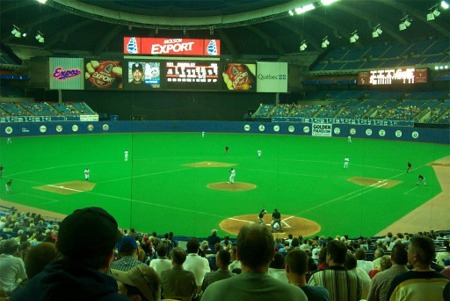 on the field and in the stands from the late 1970s through 1994. Many stars such as Rusty Staub, Gary Carter, Tim Raines, Andre Dawson, and more recently Vladimir Guerrero and Pedro Martinez played for the Expos. However, when the baseball strike began in 1994, the Expos had the best record in baseball and were arguably the most exciting team. The strike extended into the 1995 season and the Expos were never the same. The team began to trade away its young stars, while the crowds and the fan base began to plummet as well. The outlook for baseball in Montreal became bleak. In fact, the Expos were almost contracted prior to the 2002 season along with the Twins. A number of circumstances led to the Expos being purchased by major league baseball and remaining alive with the Twins. However, relocation was in the plans. As we know now, the Expos did move to Washington, DC for the 2005 season and baseball was dead in Montreal.
OK, enough with the sordid history, it is time for my take on my visit. When I came in in 2001 (fearing that 2001 would be the Expos final season) with Paul, we took the subway to the game, which is a convenient option. However, I drove to the stadium this time and parked where you can go right from the parking lot into the stadium, which is convenient too. However, to keep with tradition, I went outside any way, where Stade D'Olympic appears almost like a space station from science fiction movies. It is also odd, how low to the ground the dome appears. It almost looks like it is not high enough for playing baseball. Something about it seems strange, but unique. The Bio dome and circle of international flags outside the stadium do remind you that the Olympics were once played here.
To get inside Olympic Stadium, you have to go through the main entrance, which brings you in near home plate. Once inside, the first thing I noticed was a display by the main entrance labeled "L'equipe de reve", which literally translates to "Dream Team", but effectively represents their team hall of fame. The players highlighted here were Tim Raines, Andre Dawson, Hubie Brooks, Tim Wallach, Gary Carter, and Le Grande Orange – Rusty Staub. I loved this little collection of x-Mets and Mets killers that I grew up watching. Unfortunately, my next set of tasks were fruitless. They did not sell sodas in souvenir cups nor offer freebies for applying for a credit card, so I had to improvise by buying a coffee mug. Fin
ding interesting food, however, was not a problem. When in Quebec, it is imperative that you try poutine, which is French fries with cheese curds covered in gravy. I am not a big potato fan, but I did like poutine, so my advice is to give it a try. If you do not like it, try the smoked meat sandwiches or you can still stick to the standard hot dogs that were available too.
Note that if you were hungry though, you need to be near home plate because that is the only section of the stadium you can find food and souvenirs. When I took my walk around the stadium for photos from different views, I noticed that the concourses were completely empty and reminded me more of an empty warehouse than of a baseball stadium. It looks like there were places where concession stands could be, but there was nothing there. They did have one interactive area for fans near the main entrance with an arcade, batting cage, pitching area, knock down booth, and since we are in Canada, there is knock hockey too. I did like one section though. There was a wall with team pictures of the Expos from every year they have been in existence.
When I entered the seating area, I was somewhat overwhelmed by the blinding ugly yellow and blue seats. The lower level and outfield seats are all blue (except for the one yellow seat on the 300 level where Willie Stargell hit a 534 foot home run), when all but the lower level in other sections are bright yellow. When I went to sit in the seats, I noticed how they are egg-shaped plastic seats, which are unlike any others that I have seen. The next obvious observation is the roof, which as I indicated earlier, is now permanent and blue. The roof also appears to be lower than in the other domes I have visited to date, which upon further research I found it to be true. The roof is only 170 feet high, which led to many popups and home runs hitting the roof. This low roof did lead to something truly unique: they actually painted foul lines on the roof to aid the umpires in making fair/foul calls. Although, I am clearly not a fan of indoor baseball, I do like this special feature. I also learned that the foul poles here are red instead of the standard yellow that is in every other stadium except Shea (which is orange), but Shea does not have a red Maple Leaf on it. Lastly, on the "no good" ratings scale, this is another stadium with turf instead of dirt and grass, which I will never like.
Some of the features I do like are the emblems of all the National League teams and their 1981 National League East championship in circular shape on the outfield walls. I mean any stadium with a Mets symbol in it cannot be all bad! They also had similar circles on the right field wall for their three retired numbers; Rusty Staub (10), Gary Carter (8), and Andre Dawson (10). So, I guess they really have only 2 retired numbers. However, the one thing I like most here was the out-of-town scoreboards. They are manually operated and are above the left field (AL) and right field (NL) walls. Finally speaking of the walls, they are 99 meters away down the lines and 123 meters to center field. Yes, Canada, unlike the USA, has embraced the metric system.
Although I have barely noticed anyone joining me for the game, it is now time for the national anthems. Again, since the US team was the visiting team, the Star Spangled Banner was played first. Then, I heard the half-French, half-English version of Oh Canada for the first time. I have to say that I like version better than the all-English version I am used to hearing. In addition, as opposed to my visits to Canada for hockey and baseball games since this visit, nobody booed the Star Spangled Banner, which I did not appreciate its uniqueness at that time. I am not sure if I did not notice the anti-American sentiment this trip because it simply was not an issue at the time or if it was because the stadium was completely empty. The emptiness barely changed after the game started.
Wow! I just realized how far I have come into this article without mentioning that I got to see the Mets play again today…or at least try to. The Mets went down 1, 2, 3, in the first, with Livan Hernandez pitching for the Expos. Tom Glavine started for the Mets and he was tagged for 2 runs in the bottom of the first. Jose Macias doubled with one out, Orlando Cabrera walked and Vladimir Guerrero brought them both home with an unusual 2 RBI single in which Cabrera scored all the way from first base. Both teams went scoreless the next 2 innings, before the Mets scraped a run together in the 4th on singles by Jose Reyes and Jason Phillips (although Reyes was thrown out trying to go from 1st to 3rd on Phillips hit), a wild pitch and an RBI groundout by Cliff Floyd.
Before I go on, I will add the French to English conversion chart I needed to understand the scoreboard:
P = runs
CS = Hits
CC = HR
PP = RBI
BV = SB
Youppi = Expos mascot
Both pitchers continued to pitch well until the 6th, when the Expos scored 2 more runs on Wil Cordero's 2-run homer off Tom Glavine. Hernandez continued to dominate the Mets into the 8th inning, when he finally started to break down. The 8th inning began with Mets pinch-hitter Roger Cedeno flying out to left, which was followed by a chorus of boos from the Mets fans in attendance. This poor guy cannot escape the wrath of disgruntled Mets fans even when leaving the country. After Jeff Duncan struck out, Reyes and Phillips again had back-to-back 2-out singles, only this time Reyes was not thrown out on the base paths. At this point Hernandez was lifted from the game and was serenaded with a standing ovation on his way out. To the fans credit, although they were few in number, they were into the game and cheered passionately for the Expos, although not as passionately as when they showed the Allouettes highlights on the jumbotron. They even clapped every time Hernandez had 2 strikes on a Mets batter. Hernandez' replacement was Eric Knott, who walked Cliff Floyd (his only batter), and was yanked in favor of Luis Ayala, who induced Ty Wigginton to ground out back to the mound ending the Mets final threat. Hernandez finished his day pitching 7 2/3 innings, 1 run, 7 hits, and 5 strikeouts.
Brad Wilkerson doubled, swiped 3rd base and scored on Mike Barrett's double in the bottom of the 8th to give the Expos a 5-1 lead, which ended up being the final score. Rocky Biddle saved the game by getting the last 2 outs of the 9th inning after Hector Almonte walked 2 of the 3 batters he faced. This gave me the pleasure of seeing the Mets fall to 1-6 on my trip, my only hope at this point was for them to win on the final game of the trip at Shea Stadium, but the outlook is not positive.
Bottom line – Olympic Stadium is clearly not one of my favorite stadiums, and tends to fall on the bottom of anyone's stadium list. However, the uniqueness of seeing a game in another country, plus a lot of French language mixed in, and the poutine, made it an interesting visit anyway.
Basic trip facts:
-Stadium # 26
-Old Stadium Sites visited – Jarry Park (Total – 18)
-Under construction Stadium Sites visited – None (Total – 2)
-Miles traveled – 421 via Car (Totals: Driving – 16,129, Subway - 20, Air - 3,196, Total – 19,245)
-States, provinces, Districts and/or commonwealths passed through – Massachusetts, New Hampshire, Maine, Vermont, Quebec (Totals: States – 47, Provinces – 1, Districts – 1, Commonwealths - 1)
-Seats – Section 102, Row O, Seat 15 – Field Level, behind home plate
-Prices: Parking – $12.00, Beer – 4.75, Hot Dogs - $3.75, Program (including pencil) - $6.75, Souvenir Soda Cup – None, Poutine - $4.75
-Credit Card giveaway – None
-First Pitch - 7:08 PM
-Attendance – 9,337
-Results – Expos 5, Mets 1, W – Livan Hernandez, L – Tom Glavine, S – None
-Home team record to date – 15 wins, 14 losses
-Record of "team I was routing for" to date – 12 wins, 17 losses
-Lodging – Montreal, Quebec