Astrodome
Houston TX
July 13, 2003
By Ken Schlapp
Today I got to see the eighth wonder of the world. Yes, I'm talking about the Houston Astrodome, which is now known as the Reliant Astrodome. Built in 1965, this was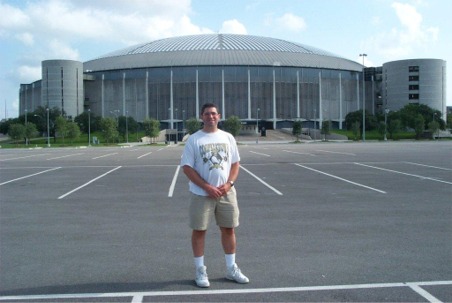 the first domed multi-purpose stadium ever built. It was and is a truly amazing piece of architecture, and was quite necessary in Houston. The Houston Colt 45s were an expansion team in 1962 (along with the New York Mets). The city of Houston was only awarded a Major League Baseball franchise under the condition that they would build an indoor stadium because Houston was simply too hot, humid and rainy to make playing baseball on a regular basis bearable for both fans and players.
The Colt 45s played their first 3 seasons at Colt Stadium, which was adjacent to the current Astrodome. This stadium ended up being more famous for the huge mosquitos and the heat than it did for baseball. Once the Astrodome opened, Colt Stadium was primarily used as a storage facility, but Astros owner Roy Hofheinz considered it an eyesore and had it painted gray so it would not be noticeable in aerial photos next to his prized Astrodome. Eventually, it was sold, taken apart, moved to Torreon, Mexico, then to Tampico, Mexico, where it currently is part of a public playground. Unfortunately, there is no marking of where it used to be, so I could not take any pictures or note anything of significance today.
Once the Colt 45s moved to the Astrodome in 1965, they changed their name to the Astros and eventually played on artificial turf, which became to be known universally as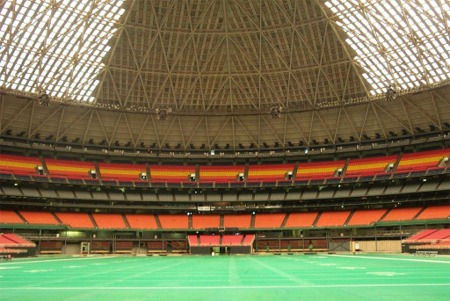 Astroturf. They tried to grow natural grass, but regardless of the partial lighting from the skylights, the grass could not properly be maintained. Therefore, the first artificial surface used for sporting events was born. The sad part here is that as amazing as it is to have invented Astroturf, it is awful to forego playing on natural grass. The Astros played here until the end of the 1999 season. College and pro football were played in the dome until 2006, while the Rodeo was held here until 2003. It is currently still standing next to Reliant Stadium (home of the Houston Texans)There had been talk of tearing it down, while at the same time it is being considered as a possible historical landmark.
I was lucky enough to contact Gerry Braud, who is in charge of the stadium, prior to my visit to Houston. He gave me a personalized tour of the Astrodome. Although I am disappointed that I was never able to see a live game here, Gerry did provide me with an amazing tour in which I got to actually walk around on the field. One of the first things that struck me about this place was how small it looked next to Reliant Stadium. When the Astrodome was built it was amongst the largest and grandest stadiums, but it is truly dwarfed by Reliant stadium.
Gerry took me around the concourses and the field on a golf cart while telling me about the history of the Dome and how only the Rodeo and high school baseball are played here now. Once inside I was amazed at how majestic the roof was. The skylights at the top of the dome are beautiful and symmetric. I also noticed the US and Texas flags prominently displayed hanging from the rafters. Whatever you want to say about Texas, I certainly am impressed with their patriotism to their country a
nd state. Walking around on the field and gazing upward as the players had done in the past was clearly one of my most memorable experiences on this trip. The photo I took looking up at the sky lighted ceiling may be my favorite photo from my entire trip. The seats were still the old yellow and orange colors that the Astros wore on those rainbow uniforms in the 70s and 80s. When you look towards the seats behind home plate, it almost looks as if you are staring at one of those uniforms. Some people thought those uniforms were awful, but I loved them so I was happy to see the shirt-looking stadium!
Gerry also invited me to see the new Reliant Stadium, which opened in 2002 for Football. The most interesting part of this tour is that when we drove right into the center of the stadium, we were on concrete and there was no grass or turf to be found. They roll the turf in and out depending on the event taking place. It was very strange to see it so empty of everything, but impressive, nonetheless. I also was able to see how much larger this place is compared to the Astrodome.
Overall, it was a great experience to visit here, and I truly appreciated of the generosity of Gerry to take me around these two majestic stadiums.
From the Astrodome, I hopped back in my car, to take a 45-minute drive down to Alvin, Texas to see the Nolan Ryan Center (Museum). The Nolan Ryan Center exists on the campus of Alvin Community College and is an educational center that was donated by the Nolan Ryan Foundation in 1996. About 1/3 of the center is dedicated as a Nolan Ryan Museum, with, history, statistics, photos, and videos documenting Nolan Ryan's Hall of Fame career and life. Unfortunately, for me, I did not realize that it was closed on Sundays and I was not able to make my way inside the Museum. I was very disappointed I couldn't get in. I was just able to take a photo and move on. The only bright side for me is that I do visit Houston for work on a frequent basis, so I know I will have more opportunities to come back.
My final stop on today's journey was to visit The Finger Furniture Center. Sounds like a typical baseball sight doesn't it? I know it doesn't, but it is definitely worthy of a stop on a baseball journey. This store is at the site of the former Buff's Stadium, which was the home of the Texas League's Houston Buffaloes. The ballpark was built in 1928 and was demolished in 1963 and replaced by the furniture store soon thereafter. Thankfully, they commemorated the old ballpark by imbedding a plaque on the floor to indicate where home plate once stood. In addition, they have added memorabilia commemorating the history of baseball (and other sports) in Houston within the store. If you love baseball history, you should definitely pay a visit to this furniture store.
Bottom line – Even though I didn't see a game today, I got to see the eighth wonder of the world and a great baseball shrine. My only mishap was showing up in Alvin on the day the Nolan Ryan Museum was closed.
Basic trip facts:
Old Stadium Sites visited – Astrodome (Total – 10)
-Under construction Stadium Sites visited – None (Total – 1)
-Miles traveled – 2,080 via Car (Totals: Driving – 12,989, Subway - 20, Air - 3,196, Total – 16,225)
-States, provinces and/or commonwealths passed through – Texas, Oklahoma (Totals: States – 31, Provinces – 0, Commonwealths - 1)
-Attendance – 1
-Lodging – Oklahoma City, Oklahoma