Damaschke Field

Oneonta, NY



Tri City Valley Cats at Oneonta Tigers


July 28, 2003
By Ken Schlapp

This was a day planned for a baseball museum, actually THE baseball Museum and not necessarily actually seeing a baseball game, but we did end up seeing a minor league game in Oneonta, New York, which is just outside of Cooperstown. Oh yea, we headed to Cooperstown to see the Baseball Hall of Fame.
As many of you may know by now, the Baseball Hall of Fame was built in Cooperstown, New York in 1939 in honor of the 100th anniversary first organized baseball game having been played there in 1839, after being invented by civil war hero and Cooperstown resident, Abner Doubleday. The only problem with the story is that it is pure fiction. A form of baseball has been played for centuries or possibly even thousands of years, based on some ancient sculptures. However, Albert Spalding, who is currently famous for sporting goods, but was originally famous as a star pitcher, manager, and finally owner of professional base ball (yes it was two words when he played) team in the 1800s, was out to prove that baseball was purely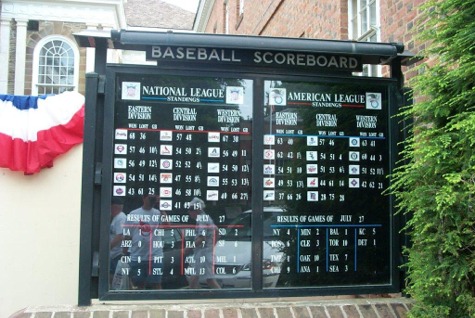 an American invention. To make a long story short, he sought letters (with the support of the Mills commission) from anyone that knew anything about the origin of base ball, via ads in newspapers and word of mouth. Once he received a letter from a gentleman (Abner Graves) from Cooperstown indicating that Abner Doubleday laid out the rules of the game and organized games in Cooperstown in 1839. Further research as dubbed the letter writer as a very suspect source, as well as data indicating that Doubleday was not in Cooperstown at that time, nor had anything to do with base ball. Needless to say, Spalding took the flimsy data he had to promote the game as being invented by an American war hero, and it stuck and continues to proliferate false facts to many believers to this day. Bottom line, however, is that because of this fictional story or myth, we now have this great museum in Cooperstown, New York!
Okay, enough of the history I have gathered during my days of running a Vintage Base Ball Club, it is now time to talk about a great museum. I have had the pleasure of visiting both the Basketball Hall of Fame in Springfield, Massachusetts and the Hockey Hall of Fame in Toronto, Ontario, and as great as those 2 places are, they simply do not compare to the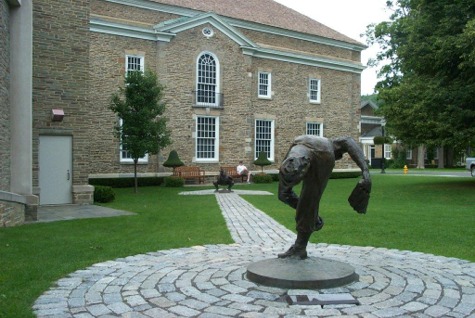 Baseball Hall of Fame. Regardless of the myth it was based on, the Baseball Hall of Fame is the center of Cooperstown in upstate, New York. I have been there several times during all seasons of the year, and every time I am overwhelmed with all the artifacts and history within the Museum. From the moment you walk in the entrance to see the displays for the most recent inductees, you begin to be gripped by the history of the greatest game in the world.
I spent an hour just walking through to read the plaques of all the players that have been enshrined since it opened in 1939. The brown plaques with the image of the player and his impact on the game and statistics are simply in the words of the great Spock "Fascinating". I get lost there every time. Then you can walk through all the displays detailing the history of the game from as far back as we know to modern times through pictures, equipment, videos and other artifacts. The exhibits on the old stadiums and old and new baseball cards enthrall me as well. Then of course my favorite part is the room listing the career and single season leaders for a multitude of different statistics, like the all-time home run leaders, which still showed Hank Aaron on top when I was there. If that is not enough head to the bullpen theatre for films, talks, and discussions on the history of the game. There is also the history of writers, writing, broadcasts, and broadcaster in the Frick wing that is clearly worth a visit to as well.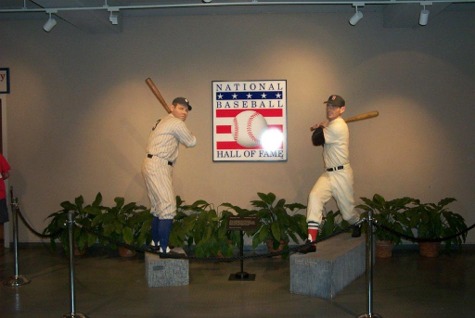 Do not stop there though, continue and enjoy as good a baseball souvenir shop that you can find, and find it difficult not to spend money on something. Then when you are done, take a walk around the beautiful red brick building that contains this broad wealth of baseball memorabilia and you will love it. Even on the outside there is a section with a few benches surrounding a statue of a pitcher throwing to a catcher behind a plate that is 60 feet 6 inches away. Lastly, I came across the billboard that is regularly updated with the current major league standings. However, when I took a look, I thought it might be broken, because it showed my Mets many games behind the 4th place team, which must be wrong.
Then there is the town of Cooperstown itself, which is filled with baseball memorabilia and clothing shops, as well as several antique shops. There are plenty of bed and breakfast places to stay and enjoy this quaint little town dedicated to baseball. If you cannot tell by now, Cooperstown is one of my favorite places to visit and I look forward to the next time I do so. It was clearly a good 4-5 hours spent before we headed over to Damaschke Field in Oneonta to see some minor league baseball.
The great thing about our adding baseball to this day, was that after seeing all these amazing new architectural wonders or cathedrals that the modern baseball stadium has become, we got to step back and see a baseball stadium that is as basic as it could possibly be. The Oneonta Tigers are a NY-Penn League affiliate of the Detroit Tigers, which is for short-season A level baseball, which means that these players are 5 leagues below the majors. This also means that very few of these players will ever even make it to the major leagues. Therefore, we got to see baseball at a much more basic level.
The first sig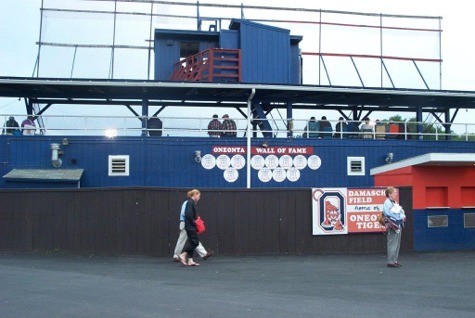 n that we were not at a major league game was that some of the players were walking into the stadium (in uniform) along with us, because there locker rooms were more like trailers and they had to get dressed, then walk onto the field and into the dugouts that are not attached to a clubhouse through some corridor. In fact, the dugouts are not big enough to house all the players when their team is at bat. Some players have to sit on the side of the dugout on top of the equipment that does not fit in the dugout either. It was shocking and great all at the same time to see the game at this level.
Being that this is a very old minor league ballpark, they did have a wall of fame, which consisted of many baseballs with the years they won various championships, including the one they had won in the prior year, 2002. They were even led by a young center fielder named Curtis Granderson. Although, it is unlikely that any of the same players would remain on the ball club for a second season. Generally, at this level, players either move up or are released rather than repeat the level. The other thing that strikes you about the championships is how minor league clubs change major league affiliations on a regular basis. This club was originally a Red Sox affiliate then switched to, of all things, a Yankees affiliate, which they had remained until the Yankees established a team in Staten Island, New York. Therefore, those championship baseballs were for the same team, but some of them were Yankee minor league teams and others were Tigers teams.
The sta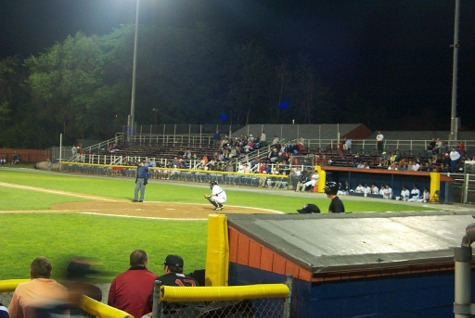 dium is also much smaller than a major league stadium. It only holds 4,200 fans on the mostly steel benches, with a few rows of boxed seats. On this particular night, there were only 855 fans in attendance. In addition, unlike other stadiums I have been to on this trip, there are hills, grass, and trees beyond the outfield walls instead of city buildings and a bustling city. It was nice to be out on the countryside. The technology within the stadium is also pretty simple. The announcer resides in a wooden shack built behind the backstop to call the game from. It reminded me of that movie about the Cape Cod League with Jessica Biel. The announcer booth was almost identical. The electronic scoreboard with simply the score by inning for 9 innings, plus runs, hits, errors, balls, strikes, outs, and the time. There was no jumbotron or pictures of the players. It was as basic as could be, and I loved it.
Considering that the game was played by low-level minor leaguers, it was no surprised that there were 5 errors committed and a much lesser quality of play than the major leagues as well. There was also a different level of concessions. For one, they do not sell beer here…really. This was the first baseball game I ever went to where beer was not sold. Fine by me, but I could not even buy a souvenir soda, but I could buy a good burger for only $2! The parking was free too!
The game started with a recorded version of the Star Spangled Banner, which I have only ever encountered before at Yankee Stadium (including minor league and major league venues in several different sports). Maybe that was just a holdover from when they were a Yankee affiliate. The Tigers played the Tri-City Valley Cats, which were an affiliate of the Houston Astros. It turned out to be a good day for the home team, as they were victorious by an 8-6 final tally.
The Valley Cats were retired in order in the 1st inning by Tigers starter, Daniel Zell. The Tigers, however, did manage to score twice off Valley Cats starter, Mike Collar. Tigers shortstop, Anthony Giarrantano, started the rally with a single and c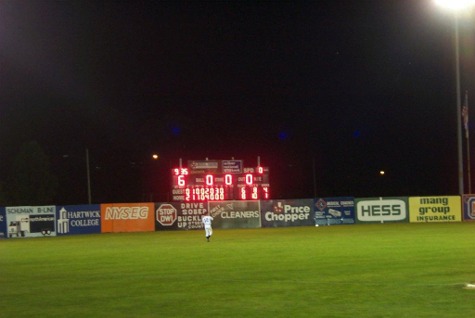 ame home on third-baseman Kody Kirkland's RBI triple. This is where we learned some cool/goofy minor league idiosyncrasies because Kirkland won a meal (or some other prize) from Subway for hitting a triple. Kirkland would score on first baseman Richard Burgos RBI groundout to give the Tigers a 2-0 lead. The Valley Cats struck back in the 2nd, when Brock Koman singled, moved to 2nd on a wild pitch by Zell and scored on a single by Kerri Fair. The Tigers came right back in their half of the inning on an RBI single by Eric Rodland to plate Robert Huddleston, who had been hit by a pitch earlier in the inning.
The minor league part of the game started in the 4th with the Tigers batting. Kirkland reached 1st on an error by third baseman Frank Pedrique, stole 2nd and scored when Burgos reached 1st on an error by first baseman Koman to increase the Tigers lead to 4-1. The Valley Cats did get back in the game in the 5th on a 2 RBI double by designated hitter Beau Hearod. The Tigers would benefit from more sloppy defense in the bottom of the 5th to score 4 times. Kirkland and Burgos both singled and scored when John McGorty reached on the 2nd error by shortstop Pedrique. Vince blue then walked and both McGorty and Blue scored on a 2-RBI double by Huddleton. The Valley cats added 3 runs in the 7th to make the final score close, on an RBI double by Koman and a 2-run homer by Hearod. Although, no more runs scored from this point, I did get to hear a recorded version of take me out to the ballgame.
Even though there was some sloppy play, some players did end up with a good stat line:
Brock Koman – Valley Cats – 2-3, 1 2B, 1 BB, 1 HBP, 2 R, 1 RBI
Beau Hearod – Valley Cats – 2-5, 1 2B, 1 HR, 1 R, 4 RBI
Kody Kirkland – Tigers- 2-4, 1 3B, 3 R, 1 RBI
Robert Huddleston – Tigers – 1-3, 1 HBP, 2 RBI
Daniel Zell – Tigers – 5 IP, 4 R, 3 ER, 1 K, 1 HBP
Bottom line – Overall, we had a blast watching a minor league game on our day off from watching a baseball game and got to see the best sports museum I know exists.
Basic trip facts:
-Stadium # 29-A
-Old Stadium Sites visited – None (Total – 19)
-Under construction Stadium Sites visited – None (Total – 2)
-Miles traveled – 178 via Car (Totals: Driving – 17,415, Subway - 20, Air - 3,196, Total – 20,631)
-States, provinces, Districts and/or commonwealths passed through –New York (Totals: States – 48, Provinces – 2, Districts – 1, Commonwealths - 1)
-Seats – Behind 3rd base dugout…literally
-Prices: Parking – Free, Beer – Not Allowed, Hot Dogs - $1.50, Program (including pencil) - $2.00, Souvenir Soda Cup – None, Burger - $2.00
-Credit Card giveaway – None
-First Pitch - 7:08 PM
-Attendance – 855
-Results – Tigers 8, Valley Cats 6, W – Daniel Zell, L – Mike Collar, S – Christopher Homer
-Home team record to date – 19 wins, 14 losses
-Record of "team I was routing for" to date – 14 wins, 19 losses
-Lodging – Oneonta, New York