Jacobs Field (Progressive Field)

Cleveland, OH



Minnesota Twins at Cleveland Indians


July 27, 2003
By Ken Schlapp

After we survived our tumultuous night next to the Detroit hip-hop club, with limited sleep, we left Nigel behind and took off around 7 AM for our 3-hour drive to Cleveland for an afternoon game at Jacobs Field (or "The Jake"). The drive went smooth getting us to Cleveland around 10:30, which gave us plenty of time to meet up with Dave Arenberg, who is another friend of mine from Segal's Cleveland office, pick up our tickets and take a walk around the stadium. I had been here a couple of times before with Dave, but it was Efrem's first trip here. The first time I came here was when I made a deal with Dave that if he arranged tickets for the game, I would come to the Cleveland office to conduct training. It was sneaky, but effective. Good thing he did not know I would come even without the tickets. On a separate trip, we sat in the last row of The Jake to watch the Indians play the Mets, while listening to a full Foreigner concert at the outdoor venue behind the stadium, which was a unique experience.
Back to today's scheduled programming, this is, of course a self-guided tour of Jacobs Field, with a long baseball game included as an extra. Since we are in Cleveland, which tends to be the butt of all jokes, I will start by saying that Cleveland is a much nicer city than people make it out to be. The Jake is located off 9th street, which is one of their main streets for food and entertainment. The Brown's football stadium and the Rock'N'Roll Hall of Fame is at one end of 9thStreet and the Jake is at the other end, with various restaurants, bars, and theaters in between. The Gund Arena, where the Cavaliers play, is right near the Jake as well. There are plenty of things to do or see around the stadium.
The Indians played in League Park from their inception in 1901 through 1931 on a regular basis and part-time through 1946. From 1932 to 1933 and from 1936 to 1993 they played in Municipal Stadium, which was better known as "the mistake by the lake". Municipal Stadium was one of the many multi-purpose stadiums that was intended for baseball, football and whatever else it could be used for. Like other stadiums built for similar purposes, it was not necessarily very good for any particular event, but serviceable for many events. It was also a lot larger than its predecessor (League Park) was. In fact, it could hold as many as 75,000 fans for a baseball game. However, the fans did not love municipal Stadium, so they were quite happy that it was torn down and dumped into Lake Erie to form an artificial reef and was replaced by Jacobs Field in 1994.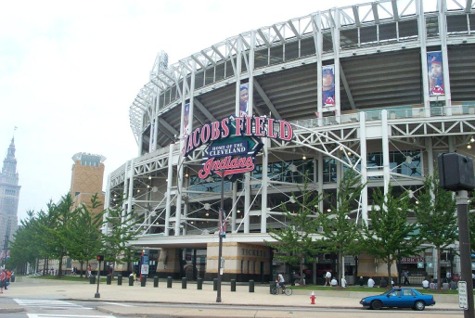 We started the afternoon by picking up the tickets left for us by the Indians' Bart Swain, and quickly finding Dave outside the stadium. Then, the fun part about taking my traditional lap around the stadium is that from a few different angles you can actually see the playing field from outside. The all green seats are the first thing that stands out from the inside, but the best part about the outside was the statue of The Indians greatest and most famous hurler, Bob Feller. As you know by now, I love it when teams honor their history, so seeing Bob Feller from the outset gives me a good feeling. I was not disappointed when I got inside either (details shortly). The outside of the stadium actually resembles Yankee Stadium (which regardless of my feelings about the Yankees is a good thing) with the stanchions along the outer rim, which hold up their 19 toothbrush-like light towers. It is definitely a beautiful stadium both inside and outside.
Once inside, I had plenty of features to like about the Indians capturing their past with tributes and remembrances. To start, they have a Hall of Fame wall near the souvenir store, with pictures of former Indian greats such as Bob Feller, Satchel Paige, Cy Young, and Nap LaJoie. Within the store, they have a big billboard listing single season baseball records (not just Indians records). They have a giant poster of Cy Young (who played for the Indians in his final 3 seasons, as well as the Cleveland Spiders of the National League from 1890-1898) to commemorate his 500th win, which took place in a Cleveland uniform. When walking around the wide concourses, you will run into huge banners commemorating their championship seasons (regardless of the fact that the most recent one occurred in 1948). The team's retired numbers for players such as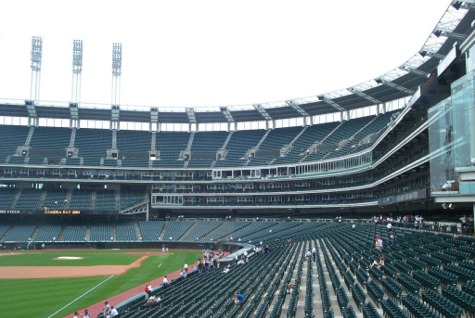 Lou Boudrou (5), Earl Averill (3), and Bob Feller (19) are prominently displayed in red on the white beams supporting the upper deck in right field. However, the strangest retired number, 455, is also displayed in right field. This number represents the 455 consecutive sellouts at the Jake from June 12, 2003 through April 4, 2001. The Indians broke open their new stadium at a time where their franchise was flourishing with young stars such as Manny Ramirez and Jim Thome, so they easily drew loads of excited fans each night. Unfortunately, by 2003, the Indians were no longer a good team and the fans stopped coming. It is now easy to get a seat in this beautiful stadium.
I continued to use the word beautiful, because it is. The traditional old-style green seats with the asymmetrical layout of the field give it a great look and feel. The left field wall is 19 feet high and houses the out of town scoreboard and is below the giant jumbotron. They have 3-tiered suites between the lower and upper level seats (except between home plate and right field), as well as a multi-tiered restaurant in left field behind glass that is called "The Terrace", yet somehow, these modern facilities still look great and do not take away from the feel of the stadium. The bullpens are out in the open and are located in the right field corner and in right center field, which gives the fans easy access to see who is warming up, without getting in the way on the field. There is a home run porch in left field with standing room only seats (which meant a lot more during the 455 consecutive sellouts), and they also have a kids land in the mezzanine level outside the outfield fences and a picnic are as well for those interested in more than just the game. Finally, there is a nice view of downtown Cleveland beyond the outfield walls, which in my opinion, is a good thing.
Now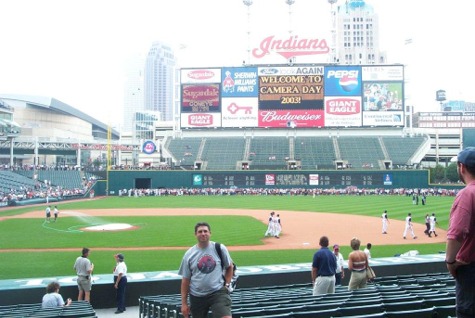 to talk about the game that would not end. This was the longest game on the trip as it took 14 innings for the Indians to beat the Twins 3-2. The game was so long that I ran out of room on my scorecard and finished scoring on my writing notebook. It was also too long for my friend Dave, who left after the 9th inning. For parts of the game, the most interesting thing was the man in the left field seats constantly beating his drum in support of the Indians. He has been a part of Indians' tradition since the 70s and is more interesting than there purple-bird mascot names Slider.
The game started slowly, with both teams threatening in the first 2 innings without scoring. The highlight being Indians shortstop, Jhonny Peralts (yes he spells his name wrong) grabbing a ball in the hole and flipping it behind his back to 2nd baseman Ben Broussard to nab Christian Guzman with a force out to end the 2nd inning. No runs would score until the 3rd inning. The Twins would get their run on a Shannan Stewart single, a Casey Blake double, and a wild pitch from Indians starter Jason Davis. Peralta led off the bottom of the 3rd inning for the Indians with a home run to give the Indians the lead and set off the stadium fireworks. That run would be it for a while as Davis rolled along, as did Twins starter Rick Reed (one of my favorite players while he was on the Mets teams that made the playoffs in 1999 and 2000). The Twins added their 2nd run in the 6th inning on a double by AJ Pierzynski and an RBI single by Jacques Jones to give the Twins a 2-1 lead, but they were not to score again. Davis went on to pitch 9 innings without a complete game, but with only giving up 2 earned runs on 10 hits, 2 walks and 4 strikeouts. Reed was more impressive by hurling 7 innings with only 1 earned run, 6 hits, 4 strikeouts and no walks, but neither pitcher would come away with a victory.
The Twins brought in their closer, Eddie "every day" Guardado, to close out the game, but he did not quite do so, as the Indians mounted one of the ugliest comebacks you will see. Guardado walked the first batter he faced, Milton Bradley (not the board game…sorry, I had to say it), then made an error on Ben Broussard's sacrifice bunt attempt, leaving runners on 1st and 2nd. Tim Laker then successfully sacrificed both runners over to 2nd and 3rd, before Guardado intentionally walked pinch hitter Ryan Ludwick to load the bases. Pinch hitter, Victor Martinez then came through for the Indians with a sacrifice fly to left to plate Bradley and tie the game up at 2. Guardado finally ended the inning by striking out Peralta to send the game into extra innings. The interesting thing is that the Indians big rally came on 2 walks, 2 sacrifice bunts, a sacrifice fly, an error, and no hits!
The 5 extra frames were fairly uneventful other than the beginning rain drops, considering that until the bottom of the 14th, only 2 runners reached 3rd base, but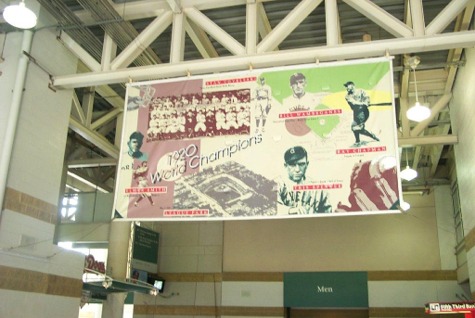 the Indians would change that in the bottom of the 14th. Casey Blake hit a 2-out double, moved over to 3rd after Bradley was intentionally walked by Juan Rincoln and Zach Sorenson worked out an unintentional walk and came home with the winning run on Tim Laker's single.
So after limited sleep, a long drive, and 14 innings of baseball, Efrem and I were ready for our next adventure (or at least I was). It turns out that Efrem was not a big fan of going to see sights of old stadium where there really isn't an old stadium any more, but he would have to put up with several stops for such sights. He would get lucky on this night though. I wanted to head over to see the wall that remains from old League Park, which is one of the oldest remaining parts of any baseball stadium. However, right after the game finally ended, it started to rain cats and dogs, so we headed for cover in the form of Cooper'stown, but not the Hall of Fame. Alice Cooper has a restaurant near the Jake called Cooper'stown, which is actually a good place to eat. It also includes loads of baseball and music memorabilia throughout that it ends up being a fun museum to browse through while eating and drinking. Unfortunately, the pouring rain would not let up, so much to my chagrin (not Efrem's), we skipped our visit to League Park and took off on our 7-hour journey to Corning, NY to rest up before a day at the actual Cooperstown Hall of Fame. For a bit of humor, by the time we drove through the rain and fog, we ended up getting to our motel in Corning quite late and woke up the manager/owner, who threatened to give us a king-size bed instead of 2 double beds, but he relented and let us in to our musty smelling room with 2 beds.
Bottom line – We got to see a very long game in a beautiful stadium. The Jake is definitely worth a visit on any baseball tour. It has all the attributes I like, with history, style and modernization all wrapped up in good order.
Basic trip facts:
-Stadium # 29
-Old Stadium Sites visited – None (Total – 19)
-Under construction Stadium Sites visited – None (Total – 2)
-Miles traveled – 470 via Car (Totals: Driving – 17,237, Subway - 20, Air - 3,196, Total – 20,453)
-States, provinces, Districts and/or commonwealths passed through – Michigan, Ohio, Pennsylvania, New York (Totals: States – 48, Provinces – 2, Districts – 1, Commonwealths - 1)
-Seats – Section 259, Row D, Seat 8 – 2nd level between home & 3rd
-Prices: Parking – $6.00, Beer – not sure, Hot Dogs - $3.50, Program (including pencil) - $1.50, Souvenir Soda Cup – $3.75, Burger - $5.25
-Credit Card giveaway – Indians T-shirt
-First Pitch - 1:05 PM
-Attendance – 24,318
-Results – Indians 3, Twins 2, W – Rafeal Betancourt, L – Juan Rincon, S – None
-Home team record to date – 18 wins, 14 losses
-Record of "team I was routing for" to date – 13 wins, 19 losses
-Lodging – Corning, New York