Nolan Ryan Museum

Alvin, TX

February 28, 2004
By Ken Schlapp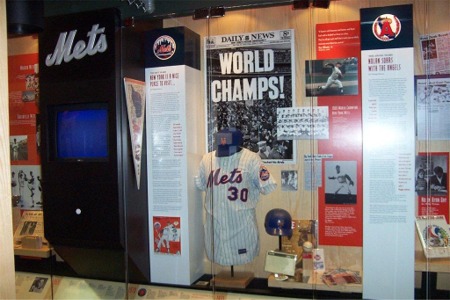 The good thing about the crazy travel schedule I have for my job is that I do get opportunities to see sporting events and other places along the way. During my big baseball journey in 2003, I was not able to truly visit the Nolan Ryan Center (Museum) in Alvin, Texas because it was closed on the day I tried to see it. Luckily, I only had to wait until the following February to get my next opportunity, when I had to come to Houston for work. I had to be in the office on Friday, but decided to stay in Houston until Sunday in order to visit the museum on Saturday.
This time, I made sure that it would be open, so my 45-minute drive down to Alvin, Texas to would not be a wasted drive and I could see more than just the outside. The Nolan Ryan Center exists on the campus of Alvin Community College and is an educational center that was donated by the Nolan Ryan Foundation in 1996. The Nolan Ryan Exhibits opened to the public in 1999. About 1/3 of the center is dedicated as a Nolan Ryan Museum, with, history, statistics, photos, and videos documenting Nolan Ryan's Hall of Fame career and life.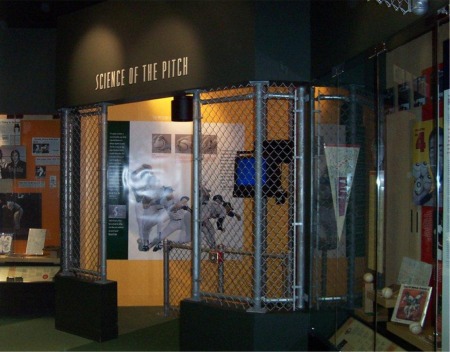 Inside was a small theatre that displays highlights of his playing career and life, videos and photos of his career with the Mets, Angels, Astros, Rangers and even the minor leagues. I especially liked the part of the display that showed the New York Daily News with the headline f Mets as World Champs from 1969. Being the stat geek that I am, I loved the hall of records, which catalogues all of Nolan Ryan's 5,714 strikeouts in a display highlighting things such as the father/son combinations and brothers that he struck out during his career. There are also displays, video and broadcast audio for each of the amazing 7 no-hitters he pitched during his career, but clearly the most interesting and exciting exhibit in the museum is the interactive pitch-catch exhibit in which you can put your hand in the catcher's mitt and actually feel what it is like to catch a Nolan Ryan fastball! I have caught in a baseball game many times, but nobody threw nearly as hard as Ryan did, so this was an impressive and intimidating experience.
On the outside of the museum in the parking lot, there is a statue of Nolan Ryan surrounded by seven flags. The three in the middle are the flags of the United States,
Texas, and Alvin. To the right are flags for The Baseball Hall of Fame and the Rangers, while on the left are flags for the Angels and the Astros, but the big omission that I only noticed years later while writing this article is that there is no flag for the Mets! I have no idea why, but this has certainly piqued my interest as to why my Mets were left out.
The beautiful thing for me on this visit was that I noticed the college baseball field while I was there and decided to head over there to watch the game. As I was sitting there, I realized just how great it was to be watching a baseball game in February. That is something I never got to do in New York because it is just too cold, but down in Texas they can play baseball all year round, which is great. Unfortunately, I did not take notes or photos of the game, so I do not remember whom Alvin Community College was playing or if they won, but I am pretty sure it was a double header. I have emailed their current sports department to see if I can find a box score of those games, but have not heard back yet. Regardless, I still watched a baseball game in February!
Bottom line – If you are in Houston, it is worth the drive to see this great baseball museum of one of the greatest players ever…and if you are lucky, you can catch a game too.
Basic trip facts:
-Stadium - NA
-Old Stadium Sites visited – None (Total – 21)
-Under construction Stadium Sites visited – None (Total – 2)
-Miles traveled – 3,272 via Air and 76 via Car (Totals: Driving – 18,353, Subway - 20, Air - 6,468, Total – 21,569)
-States, provinces, Districts and/or commonwealths passed through – Texas (Totals: States – 48, Provinces – 2, Districts – 1, Commonwealths - 1)
-Seats – Behind the backstop
-Prices: Parking – free, Beer – None, Hot Dogs – Not Sure, Program (including pencil) - None, Souvenir Soda Cup – none
-Credit Card giveaway – None
-First Pitch - 1:06 PM
-Attendance – 100
-Results – Cardinals 8, Mets 2, W – Steve Kline, L – Dan Wheeler, S – None
-Home team record to date – 20 wins, 15 losses
-Record of "team I was routing for" to date – 15 wins, 20 losses
-Lodging – Houston, Texas