Past Ballparks of New York City

New York City (Manhattan, Queens & Brooklyn)

September 29, 2007
By Ken Schlapp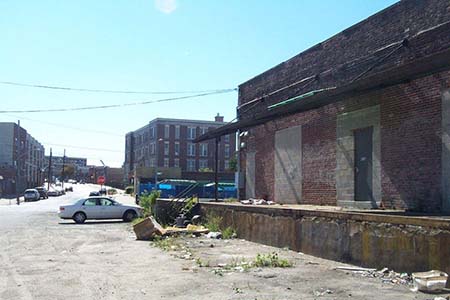 Our first stop was the Long Island Grounds in Maspeth, which was located where Grand Avenue and 57th street intersect. This park was originally the home of the amateur Skelly Base Ball Club, but in 1885, they played a game against the New York National League team. In addition, the New York National League team also played a game against the New York Metropolitans of the American Association to display an exhibition of two major league teams. The Long Island Base Ball Club began playing here in 1886 and for 12 games; they were a professional team in the Eastern League, before disbanding after 3 weeks. However, that was not the last of professional baseball at the Long Island Grounds. The Cuban Giants of the Negro Leagues played some of their home games here from 1887 to 1893, and the Brooklyn Gladiators of the American Association played 2 Sunday games here as well. The Long Island Grounds, however, fell into disuse sometime around the turn of the century and today is the host of warehouses and factories (including Feldman's Lumber); with nothing to signify Major League baseball had been played on this site. I have driven by there a million times without ever having known that fact.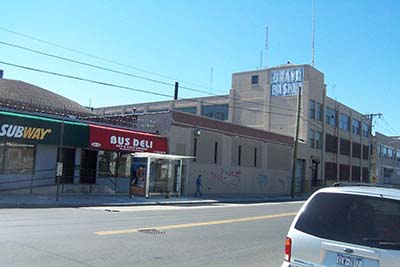 More amazingly, was that another park existed almost across the street on the corner of Grand and 54th Street. Queens County Grounds was built in 1884 to house a horse racing track with a baseball field in the center. The Atlantic Base Ball Club of Brooklyn (not the fames Atlantics) played here in 1884 and for 2 games were part of the professional Eastern League, but were expelled for not paying the Richmond Club of Virginia their share of the gate. Another Atlantic Club played there in 1886 and renamed the field Atlantic Park. Eventually, the Feldman Family took over the lease, added a hotel, a casino, and changed the name of the field to Feldman's Atlantic Park and eventually to Feldman's Queens County Grounds. A fire in 1902 ruined the hotel and grandstands and eventually the ruination of the field. Today, there is a Subway sandwich shop, a deli, and factories where Atlantic Park had existed.
Our next stop, the Suydam Oval, was very special to me. I grew up on Suydam Street between Cypress Avenue and "the Car Barns", which my street came to a dead end. It was known as The Car Barns, because that is where the Trolley Cars were parked when not in use during the heyday of trolleys in Queens. When I grew up, the Car Barns was a non-maintained dirt lot, full of broken glass and garbage, but it was also where I grew up playing baseball, football, king of the hill and handball. What I did not know was that the Car Barns was once called the Suydam Oval and that the semi-pro Suydam Lorials played their home games here in the 1920s and 1930s. The only historic note I knew about was from reading Montgomery Ward's (star pitcher and infielder in the 1800s) biography that he lived approximately, what would later become Suydam Street. After moving on to high school, I learned that the park was actually the property of Grover Cleveland High School, which I attended and eventually practiced for track events on this field for 3 years. In 1999, the field was redone with Astroturf and once again became the home of Grover Cleveland baseball and softball teams. Since my family no longer lives in the neighborhood, it felt good to "go home" for this part of our journey.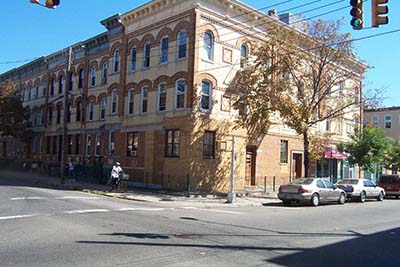 Next up, was to visit the additional sites of professional baseball in Ridgewood. 1st up was Meyerrose Park (which was also known as Atlantic League Park and Union League Park). This park stood on the corner of Covert Avenue and Woodbine Street, which is where Onderdonk Avenue would eventually be. The park opened for baseball in 1907 for the Ridgewood semi-pro team and a Brooklyn outlaw Atlantic League team. The Royal Giants and Philadelphia Giants of the Negro Leagues would also play games at this park. As David notes on his website, this park was often confused with Grauer's Ridgewood Park and Wallace's Ridgewood Base Ball Grounds, which I will discuss next. Although, there was no Major League baseball played here, there were plenty of high-level games. Unfortunately, the lot the field stood on was sold in 1911 and replaced with housing. Today, it is the Onderdonk Avenue I remember growing up around by the elevated M train and other houses, bars and shops.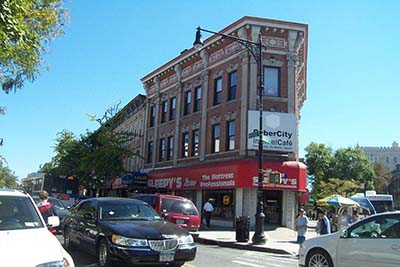 We then headed to the corner of Myrtle and Seneca Avenues, which was the site of Grauer's Ridgewood Park, but today is in the middle of Ridgewood's main shopping and business area. Grauer's was a picnic grounds as well as a baseball park. Many semi-pro teams played there in the 1880s on Sundays because Ridgewood is in Queens, but directly across the border from Brooklyn. The big selling point for Grauer's is that in Queens, the blue laws were less strict than in Brooklyn, so baseball games could be played. In fact, at the time, most Major League teams could not play on Sundays because of blue laws. However, the Brooklyn American Association Team (later the Dodgers) got around this by playing their Sunday home games at Grauer's in 1886. However, Grauer did not find baseball profitable enough and turned his park into picnic only and no baseball in 1887, and eventually closed the park altogether in 1906.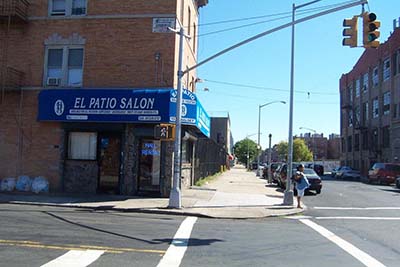 Once Grauer's shut down for baseball in 1887, the Brooklyn club made there Sunday home in Ridgewood's other ballpark: Wallace's Ridgewood Grounds. This park was between Wyckoff and Irving Avenues and Weirfield and Covert Streets. Like Grauer's, Wallace's was also a picnic ground. They continued to play Sunday games there until 1890. The Brooklyn Gladiators of the American Association also played there in 1890. Their game on April 18, 1890 would be the last Major League game in Queens until the New York Mets moved to Shea Stadium in 1964. However, Negro League games, semi-pro baseball, football, soccer, and other high school sporting events continued to be played on Wallace's Ridgewood Grounds through 1959. Like the current locations of Grauer's, and the 2 ballparks in Maspeth, I had walked and driven by the former site of Wallace's Ridgewood Park many times without having any idea that Major League baseball had been played there. Sadly, there are no markers or other signs that these spots are historic baseball sites.