Around the Major Leagues in 49 Days
Rosenblatt Stadium
Omaha, Nebraska
2003 College World Series - Final Game
Stanford at Rice
June 23, 2003
By Ken Schlapp
I left my sister Linda's house yesterday morning to head to Milwaukee with Paul to see Miller Park, but after the game I dropped Paul off at the airport so he could go home. So I'm on my own now for most of the remaining part of the trip, which started with my 4-hour drive to Cedar Rapids, Iowa. On that drive I was listening to ESPN radio (which will continue to be a common practice for me during the trip) to find out the score of Game 2 of the College World Series between Rice and Stanford. I was very happy to find out that Rice won, because that meant that there would be a third and deciding game for me to see in Omaha, Nebraska tomorrow. Note to other travelers: "Do not leave a full bottle of shampoo in your bag without being covered in a plastic bag!" I found out the hard way and had to stay up late doing laundry and cleaning up my bag.

My first stop on the 23rd was to see "The Field of Dreams" and apparently the "Left and Center Field of Dreams" too, in Dyersville, Iowa. This is the site made famous by the "Field of Dreams" movie with Kevin Costner and James Earl Jones. This field is actually on the property of two different families, with each family having a souvenir stand. The first base side ("Field of Dreams") of the field is owned by the Lansing Family, while the left and center field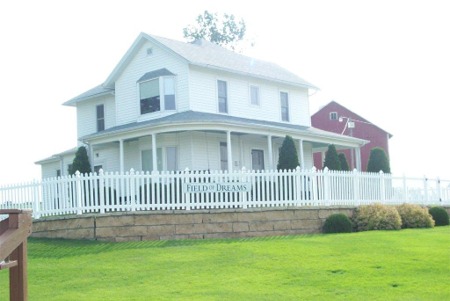 side of the field ("Left and Center Field of Dreams") is owned by the Amskamp family. I got the chance to listen to both sides tell how the other side is keeping the field from being more than it could be. For instance, because of the rift between the families, there are no scheduled games on the field. Anyone is allowed to play on the field, but no tournaments or sanctioned games happen. Aside from the politics, there is something special about this field. The scenery of the Baseball diamond in the middle of the cornfields is serene and does bring you back to the way you would envision Baseball out in the country 100 years ago. I even contributed to both souvenir stands in different ways. You can ignore the politics or take humor in it, but either way, if you are ever near by make sure you go see this diamond in the cornfield!

From Dyersville, I drove to Van Meter, Iowa to see the Bob Feller Museum. This is a quaint museum highlights the heroics of this Hall of Fame flame-thrower from Iowa. The museum's supervisor, Bonnie Feldman, who is a family friend of Bob Feller, was there to greet me and take my entrance fee. You will recognize her in the ESPN Sports Century film on Bob Feller that is shown inside the museum. You will also be able to find out all you need to know about Mr. Feller in the museum, but make sure you look up at the walls, where each of his victories is commemorated on a golden baseball-shaped plaque. Clearly, my favorite part about visiting this museum was meeting Bob Feldman (Bonnie's husband), who was excited talking to me about my trip and insisted that he help me out by taking a picture of me in front of the outdoor mural of Bob Feller. I think that made both of our days!

As I stated above, I was very happy to be able to see the final game of the College World Series today. Regardless of who wins, this will represent the first time I will witness a national championship (amateur or professional) in person. Therefore, I rushed from Iowa to make sure I got there in time to get a ticket for the game which is played at Rosenblatt Stadium in Omaha Nebraska, which was really easy to find, considering it was right off of I-80 at 13th Street.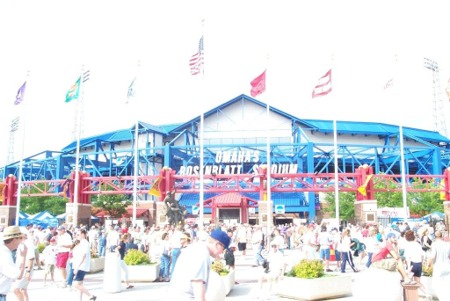 This stadium is the everyday home of the Omaha Royals, which is the Kansas City Royals AAA affiliate, but is much more famous for being the home of the College World Series since 1950. When I got there, I saw a huge line of people outside the stadium and was worried that I wouldn't be able to get in, but when I asked one of the guards about the line, he sold me a general admission ticket for $7. So I got back on that long line and went into the stadium with the rest of the people with general admission tickets.

Once inside, I went right for the food when I got in and had a cheeseburger and, of coarse, a large souvenir soda. The food was pretty typical of baseball, with no real special foods present in this area, but the cheeseburger was really good! I figured that I would find an out of the way spot in the bleachers to eat and watch batting practice. So after I finished the burger, I called my brother to let him know how I was doing. I got my sister-in-law Joi instead, and while we were talking about my trip and my two nieces (Allie and Meagan) I looked up and saw a line drive coming right at me. So I did what any intelligent person should do, I got out of the way and picked it up after it smashed into the empty seats behind me. This is the first time I ever got a ball at a game after having been to several hundred games before. And even better yet, I was able to pass on the news to Joi right away! After I hung up the phone I was able to talk to the other people around me that were saying how lucky I was.

There was still over an hour before game time, so I decided to put my ball away and take a walk inside and outside of the stadium. I had my ticket checked to allow me to get back inside, but while outside, I found someone selling a single ticket by 1st base for $25, so to have a more comfortable seat (and a better souvenir ticket) I went for it. I'm also glad that I went back outside where I was able to see all the hoopla surrounding the World Series. This event is clearly one of the biggest events in Omaha every year and the people here know how to make it special. When you walk along 13th Street you are confronted with a myriad of souvenir and food stands. It looked like a feast was going on, and effectively there was one. Then I was able to see the famous "Road to Omaha" statue in front of the stadium, which depicts 4 college Baseball players struggling to celebrate their championship. I also realized that there was more of a variety of foods in the front part of the stadium, but I was already full.

Unfortunately, the actual game was a blowout. Rice won easily over Stanford by a score of 14-2. Rice got out to a 3-0 lead on 3 bases-loaded walks allowed by Stanford's Mark Romanczuk in the 1st. Rice added an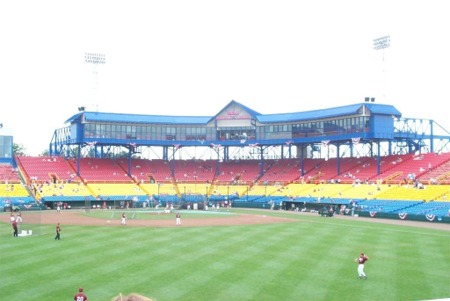 other run in the 2nd due to 2 additional walks, but Rice really exploded with a 7-run 6th inning with Enrique Cruz, Paul Janish, and Chris Kolkhorst driving in two runs apiece. The only real highlight for Stanford was when center fielder Sam Fuld broke Keith Moreland's all-time single season World Series hit record with his 24th hit of the Series. Kulkhorst had the biggest offensive game for Rice by going 3-4 with 2 walks, 2 doubles, 3 runs and 2 RBI, but Rice's real star of the game was pitcher Philip Humber, who went a full 9 innings for the win. Mr. Romanczuk took the loss.

The real highlight for me was being there when Rice got the last out of the game where I got to see the players run out on the field jumping up and down in celebration of their National Championship. Overall, the fans were pretty excited and enthusiastic throughout the whole game. It appeared that the bulk of the fans were rooting for Rice, but there was a Stanford presence, include the man sitting next to me that also sold me my ticket. The only disappointing part of the game was that it did not appear to be a sell-out and the recorded attendance proved me right. The 18,494 that showed up for the game was not a sellout, but it did push the overall World Series attendance to 260,091, which is a new Series record.

Bottom line - This was a great experience that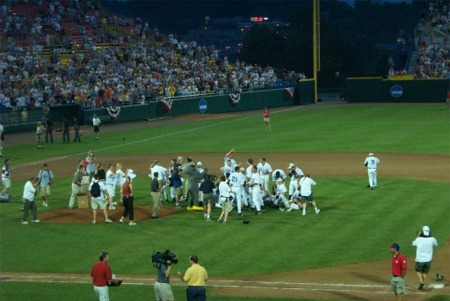 every Baseball fan should get to enjoy at least once. The city of Omaha truly embraces their role in the World Series, and makes the experience extra special. So what I am basically saying is "just go" if you can!

After the game, I had one of the more scary experiences in my life that I'll share with you. I had to drive 3 hours North to Sioux Falls, South Dakota after the game, which ended around 9 PM. During the first part of my drive I could see lightening far in the distance, but it wasn't raining where I was. This was fascinating at the time, because it was pitch-black and the land is completely flat in this part of the country. Therefore, I could enjoy the beauty of the lightning, which was far in the distance, but in the direction I was going. I didn't think much of it because I knew that inside my car was one of the safest places to be since the car is grounded. However, when I crossed the South Dakota border, a warning from the Sioux Falls weather department blanked my radio out with this awful warning sound. The warning indicated that there were severe weather conditions in the Sioux Falls area. My first thoughts were that I've been through thunderstorms in New York many times before and that I needed to get to Sioux Falls to sleep, so I should just keep going.

I didn't realize what I was in for. A few miles later, the rain started and came down so hard that even with my windshield wipers on the highest setting, I still couldn't see more than 2 feet in front of me. I had no idea if I was on the road anymore and I was still moving at about 5-10 miles an hour for fear that if I stopped completely that I would be hit from behind. I couldn't tell if it was just raining incredibly hard or if I was in a stream of water up to the hood of my car. My saving grace was finally seeing hazard lights in the near distance, so I drove right behind that car (with my hazard light on as well) and stopped, figuring that we were somewhere on the side of the road. When I stopped, my car was rocking so hard I felt like I was on one of those high tech amusement rides in Universal Studios, but this wasn't amusing. Then the radio warning came on again indicating that there were tornadoes in the area. I didn't know what to do, so I just sat there for about 20 minutes (felt like a few hours) until the rain let up enough for me to continue driving.

I survived the remaining hour of driving while witnessing some of the most fascinating and scary lightning I have ever seen. I saw a few bolts of lightning touch down no more than 50 yards from me. Other bolts of lightening streaked across the sky instead of going towards the ground, which is something, I don't remember seeing before. It turned out that my sister Linda was only about 50 miles away near Sioux City, Iowa witnessing similar sights on her drive. We both ended up fine, but unfortunately, I found out the next day that the town of Manchester, South Dakota, which was somewhat close to where I was when I was forced to stop the car, was completely wiped out by a tornado. Though I doubt they will read this article, I'd like to wish the families from that town the best. I now know what it is like to experience a storm in the Midwest, and realize I need to pay more attention to warnings.

Basic trip facts:

* Stadium # Supplemental 1
* Old Stadium Sites visited - None (Total - 4)
* Miles traveled - 585 via Car (Totals: Driving - 3,847, Subway - 20, Air - 3,196, Total - 7,063)
* States, provinces and/or commonwealths passed through - Iowa, Nebraska, and South Dakota (Totals: States - 16, Provinces - 0, Commonwealths - 1)
* Seats -Section D, Row 13, Seat 8 - Between Home and 1st Base
* Prices: Parking - $10.00, Beer - not sure, Cheeseburger - $5.00, Program (including pencil) - $8.00, Souvenir Soda Cup - 3.75
* Credit Card giveaway - None
* First Pitch - 6:01 PM
* Attendance - 18,494
* Results - Twins 14, Brewers 2, W - Phillip Humber, L -Mark Romanczuk, S - None
* Home team record to date - 6 wins, 5 losses
* Record of "team I was routing for" to date - 3 wins, 8 losses
* Lodging - Sioux Falls, South Dakota