Tropicana Field

St. Petersburg, FL



Texas Rangers at Tampa Bay Devil Rays


July 17, 2003
By Ken Schlapp
Today started with a short 45-minute drive to Hernando, Florida to see the Ted Williams Museum Hitters Hall of Fame, before moving on to my Uncle Norman's house and the Tampa Bay Devil Rays game in St Petersburg. This museum, which opened in 1994, is located just a few blocks from where Ted Williams lived.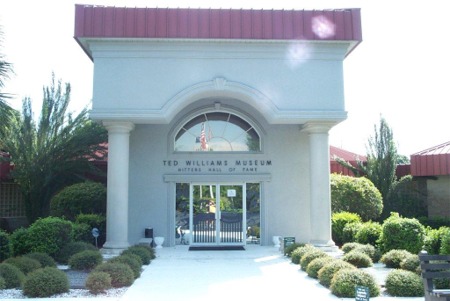 It is dedicated to both the historic baseball and fishing career of Ted Williams and the greatest hitters of all time. Ted wanted to honor what he felt was the most difficult thing to do in sports; hitting a baseball. Therefore, this Museum is filled with memorabilia of the greatest hitters of the past and present.
Everything I have read about Ted Williams was focused around hitting as the only thing he cared about, so it makes perfect sense that he would open a museum dedicated to his favorite art. The great thing about it is that the museum is laid out like a baseball diamond with a large statue of Williams ironically located where the pitcher's mound should be. Each base section represents different portions or chapters of his life, including his early baseball years, his professional career, his time in the military and his managerial career. There are also many references to his exploits as a hall of fame fisherman.
When the museum first opened, Ted Williams named the 20 greatest hitters of all time, which included Babe Ruth, Willie Mays, Ty Cobb, Stan Musial, Mike Schmidt, and Joe Jackson. An interesting omission from that list was Ted Williams himself, who was not elected until after he died in 2003. I was happy to see displays with memorabilia for Dave Winfield and Willie McCovey, which as you may know by now, are two of my favorite all-time players. They elect new members each year, but what I found to be real interesting 9and disappointing) was that one of the managers of the museum told me that most of the players elected (or receive annual awards) have ties to New York, Boston, or Tampa, because the people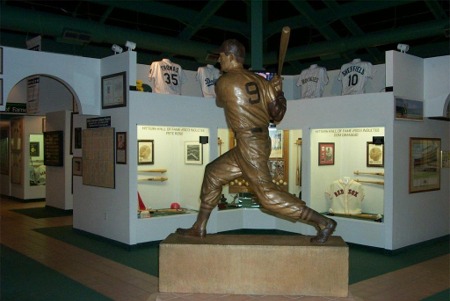 that are more likely to come visit are from those locations. However, in spite of that regional bias, I was thrilled to see that Japan's all-time home run hitter Sadaharu Oh and Negro League star Josh Gibson are also included as inductees.
I was impressed with the jerseys of current players, such as Frank Thomas and Manny Ramirez, mixed in with Mel Ott and Hank Greenberg. However, the abundance of Ted Williams's memorabilia rightfully stands out above all the rest. In particular, there was a big display celebrating the 60th anniversary of his triple crown in 1942. I was honored to finish off my visit by taking a photo with Ted himself, or at least next to a statue of him on the bench outside the museum. It was a great trip, and I loved the museum, but at the same time, I was looking forward to visiting with my Uncle Norman.
Since my Uncle moved down to Florida, I do not get to see him too often, so I was happy to be able to get tickets to the Devil Rays game for Uncle Norman and his girlfriend Gerrie as well as for mysel. I even got to learn that my uncle hasn't been to a baseball game since the Dodgers left Brooklyn and Ebbetts Field in the 50s. This has nothing to do with baseball, but they live near a wildlife preserve, with an alligator that frequents the pond behind their house. I did not see the alligator, but I did see an armadillo, which is essentially a rat with armor. That was as weird as could be, but an interesting first for me anyway.
So far on my trip, I have done all of the driving to every stadium except 2; I had to fly to Hiram Bithorn Stadium in Puerto Rico, and I took the subway to Yankee Stadium. I had to make an exception on this one and let my uncle drive, because Gerrie needed a special seat in the car because of a bad back. I was just happy they could join me, so this certainly does not tarnish my solo driving feats.
I try to keep an open mind, but heading into a domed stadium does not generally give me optimism. I understand that with all the rain and hot humidity in this part of Florida, a dome is necessary. Some interesting facts about this dome are that the roof is slanted to help protect against hurricanes that are frequent in this area. In addition, the slanted roof decreases the volume within the stadium to save on air conditioning costs, as well as energy.
This particular dome was completed in 1990 as the Florida Sun Coast Dome with the hopes of attracting a Major League baseball team. There were rumors that the Chicago White Sox would move here during the late 80s and early 90s, but then the Sox got a new stadium in Chicago. Then, there was about to be a press conference in 1992 to announce that the San Francisco Giants were going to make the dome their home, but the National League blocked the move. They even lost out on their bid for an expansion team to Miami and Denver with the addition of the Florida Marlins and Colorado Rockies in 1993. They did, however, finally get their major franchise in 1993, but it was the expansion Lightning of the National Hockey League!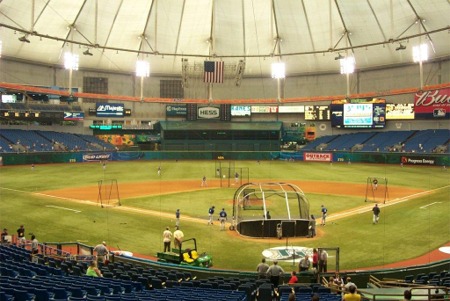 The Lightning played there through 1996 when the Dome was also renamed the Thunder Dome. The Tampa Storm of the Arena Football League also made this their home from 1991 to 1996. Considering that hockey and arena football are generally played in smaller arenas, both teams broke several league attendance records during their stay in the dome.
It was not until 1998 that the newly called Tropicana Field got its first Major League baseball tenant with the Expansion Tampa Bay Devil Rays. The field was made of Astroturf when the Devil Rays began playing there in 1998, but they have since switched to a FieldTurf with an all-dirt infield, which is the first stadium to forgo the simple dirt patches around the bases, mound and home plate to have a full dirt infield. Although it is still not grass in an open-air stadium, this is not bad, or at least better than the other domed stadiums I have visited (Metrodome, Astrodome and Olympic Stadium in Montreal). It at least closely resembles baseball, as it should be.
Once we walked into the Dome through the main entrance, I learned an ironical fact about it. I mentioned before that my uncle had not been to a baseball game since Ebbetts Field in Brooklyn during the 50s, and the coincidence is that the main rotunda entrance for this dome was modeled after the main rotunda of Ebbetts Field! In effect, I brought him back home. The rotunda is beautiful, with murals depicting fans in the stadium with older garb as if it were many years ago. The cool thing about it is that the faces of the people in the murals were based on the actual people that helped to build the dome. There is also an art piece with a fielder crashing through the wall, which is a real attention grabber.
The concourses are wide with several food options, including Hooters. The rep that provided me with the tickets, Joe Steinberg, stopped by to visit with us during the game and expressed how disappointed he was that the servers at Hooters did not wear their traditional outfits (or lack thereof) at the dome. However,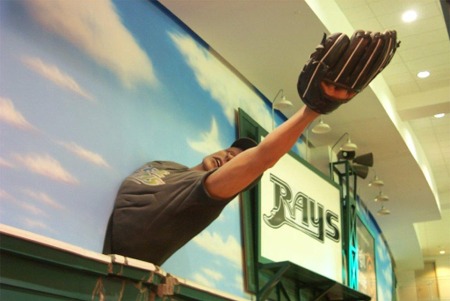 if the Devil Rays strike out 11 of their opponents batters, fans do get 10 free wings at an actual Hooters restaurant. Some of the other interesting options are Cuban food, Outback Steakhouse, a restaurant in the batter's eye in center field, and Ybor Crab rolls, which is what I tried and liked very much.
There are plenty of interesting and unique things to pry your attention away from the game. For instance, there is a Mountain Dew Rock Wall, where you can actually put on gear and climb up. Orange colors everywhere, including an orange ring around the entire inside of the Dome, to help promote their Tropicana namesake products. The Tropicana name is clearly displayed everywhere and anywhere, so they do a very good job advertising their products. In fact, when a Devil Rays player hits a home run, the giant orange and straw on the outfield dome wall fills up. The team's namesake is also represented with models of Devil Rays seemingly swimming on the walls.
I found it quite interesting that a team that has only existed for 5 years actually had uniforms with retired numbers on their outfield walls. Those retired numbers were for Tampa native, Wade Boggs, and Jackie Robinson (retired by all teams). Although Boggs only played briefly with the Devil Rays, he did play long enough to get his 3,000th hit in a Devil Ray uniform. They also embrace their history with a Fan Hall of Fame display of baseballs. In addition, there is a St Petersburg Times display with news clips on Ted Williams and on Wade Boggs 3,000th hit, plus another display for the 1922 State Champs; the St Petersburg Saints. Therefore, they are on the right track to remembering local and team history, what little of it there is.
Once it was time to sit down and watch the game, the overwhelming empty blue seats stood out. The capacity of the stadium is 45,000, but only 11,000 showed up for the game, which gives a sad feeling. I have since learned that the Lightning regularly outdraw the Devil Rays. Those that were there rooted hard for their team when appropriately prompted by the sound system and scoreboard. Joe Steinberg did tell us that the section on the upper level in Left Field is called The Beach. That section cost $3 per seat and is only accessible to those ticketholders for the first 7 innings. I did not go up there, but it certainly appeared that it had a section of it with actual sand.
Again, it is indoor baseball, which is not my favorite, but I do love the way the architecture, scaffolding, and catwalks on the ceiling looks. I always take pictures of the top center of dome because it does have an interesting loo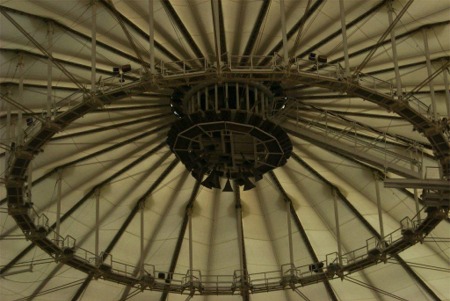 k from an artistic point of view. The scaffolds are particularly interesting here, because some of them are actually in play. If a ball hit the A-ring catwalk (or part of the B-ring), the ball can, and has been, caught off the ricochet for an out. Now that is not something you see in open-air stadiums. In addition, a batted ball striking parts of the C and D rings are automatic home runs. I did not witness any such instances at this game, but it is interesting, nonetheless.
The game itself was not a good one for the home team. Joe Kennedy started well by holding the Rangers scoreless for the first 2 innings, but got off to a bad start in the 3rd by allowing a leadoff home run to Donnie Sadler. It only got worse from there. After Einar Diaz reached on an error, Mike Young tripled him home before A-Rod and Juan Gonzalez followed with RBI doubles for a 4-0 lead. Mike Young and Doug Glanville added RBI doubles in the 4th and Marcus Thames hit a 2-run homer in the 5th to give the Rangers an 8-0 and knock Joe Kennedy out of the game. The Rangers pitcher, John Thompson, fared much better. He was perfect for 3 innings, and did not allow a run until Ben Grieve started a 2-out rally with a double and scored on a single by Damian Rolls. Juan Gonzalez added a 3-run homer in the 8th to further increase the Rangers lead to 11-1. The Rays did come to life again with two outs and nobody on in their half of the 8th, which was capped by a 2-run double by Aubrey Huff, which knocked Thompson out of the game. The Rangers added their 12th run in the 9th on Doug Glanville's single. The Devil Rays would not give up though. Julio Lugo delivered a 2-run triple in the bottom of the 9th, followed by a Carl Crawford sac fly, but would ultimately end up on the short end by a final tally of 12-6. It was a valiant effort to come back from a 10-run deficit, but 6 runs in the final 3 frames would not be enough.
Stars of the game were Mike Young, who went 3-6, with a double, triple, 3 runs and 2 RBI, and Doug Glanville (4-6, 1 run, and 2 RBI).
Bottom line – It was great to take my uncle to his first game in about 50 years and although I complained about being in a dome, this is the best dome I have been to.
Basic trip facts:
-Stadium # 20
-Old Stadium Sites visited – None (Total – 10)
-Under construction Stadium Sites visited – None (Total – 1)
-Miles traveled – 96 via Car (Totals: Driving – 13,085, Subway - 20, Air - 3,196, Total – 16,321)
-States, provinces and/or commonwealths passed through – Florida (Totals: States – 36, Provinces – 0, Commonwealths - 1)
-Seats – Behind 1st base dugout.
-Prices: Parking – $10.00, Beer - $5.00 - $7.00, Hot Dogs - $3.50 - $4.50, Program (including pencil) - $5.00, Souvenir Soda Cup – $4.50, Ybor Crab Roll - $3.00.
-Credit Card giveaway – Towel
-First Pitch - 7:17 PM
-Attendance – 11,366
-Results – Rangers 12, Devil Rays 6, W – John Thompson, L – Joe Kennedy, S – None
-Home team record to date – 10 wins, 13 losses
-Record of "team I was routing for" to date – 8 wins, 15 losses
-Lodging – Tampa, Florida (7/17) – My Uncle Norman's house