Ty Cobb Museum

Royston, GA
By Ken Schlapp
After getting a good night's rest in Ft Lauderdale after the Marlins game, I had to start my long haul back up North. Miami was the southernmost portion of my driving journey, San Juan, Puerto Rico was the furthest South, but I did not have Chitty Chitty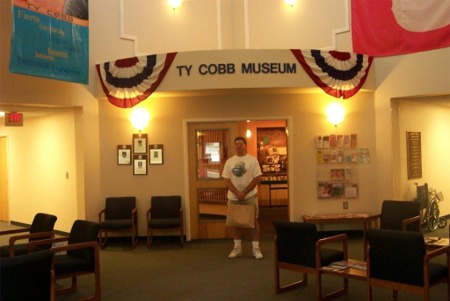 Bang Bang to drive there, so I had to take a plane. My only task for this Saturday was to drive the 675 miles from Ft Lauderdale to Royston, Georgia. I actually drove a bit farther though (793 miles). One of my non-baseball goals during this trip was to pass through all 48 lower States, so I diverted my drive through South Carolina to keep on target. After the long drive, I attempted another good night sleep to prepare for a load of events on Sunday, beginning with the Ty Cobb Museum.
The interesting trick for me with the Ty Cobb Museum was that I knew going in that they are closed on Sundays, which differs greatly from my mishaps with the Nolan Ryan Museum and the Jim Thorpe House. I reached out in advance to Candy Ross and Julie Ridgeway at the Museum to let them know about my trip and to see if they would let me in on their off day. My luck came through, Candy was willing to open up and show me around at 8:30 in the morning to show me around.
Regardless of all the negative press Ty Cobb has received over the years about his human decency, he is one of the select best-of-the-bests in the history of baseball. Needless to say, I was very excited about visiting the museum and his hometown of Royston. Everything about Royston exudes Ty Cobb. When entering the town, you are greeted by a giants sign stating "Welcome to Royston, Home of Baseball's Immortal Ty Cobb." It does not stop there; you will find the Ty Cobb Health System, the Cobb Memorial Hospital (with the O actually being a baseball), a historical marker for Ty Cobb, The Georgia Peach, and a grave-like tombstone in town to honor him as well. There is no doubt that Ty Cobb is an honored and loved man in this town.
When I reached the Museum, Candy Ross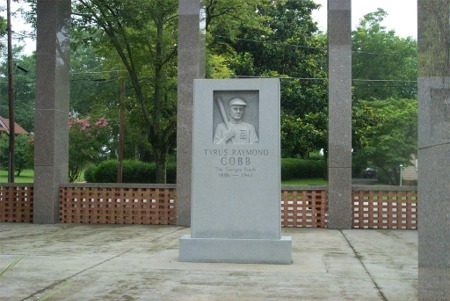 warmly greeted me, and I could not thank her enough for taking time on a Sunday morning to show me around. All the Cobb memorabilia was overwhelming. When you first walk in, the Ty Cobb Museum sign stands out over the entrance to the theatre (of course that was the photo op to prove I was there, Candy graciously took the picture for me). The movie theatre has stadium seating and presents a great pictorial movie on Ty Cobb's life, which is narrated by Larry Munson and includes interviews with Chipper Jones and Peter Gammons. It was definitely worth watching. The display that stood out most to me was on the Cobb Style of Baseball. It includes pictures of him hitting, throwing, running, and sliding all in that intense, take no prisoners style, that made him famous. You can see the hard-nosed grit in the pictures and in the commentary. There are also sections with his awards, including his 1907 American League Batting Trophy. A Georgia Peach display with several baseball cards, pictures, and information about his life in Georgia outside of baseball.
The best part of the visit was truly how nice Candy was to me. We talked a bit about the negativity about Ty Cobb as a human being. She was disheartened by those stories, but she did discuss how he would sometimes go into the poor neighborhoods and hand out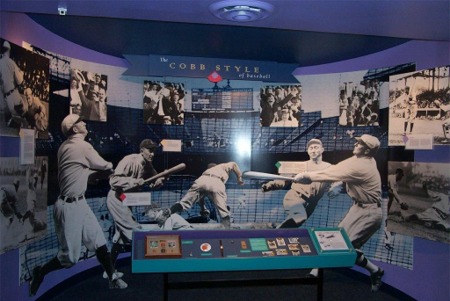 $100 bills to a few people that needed it, without having that fact publicized. She also said she was upset about those in the Society of American Baseball Research (SABR) that have done research that ended up slightly bring down Cobb's career batting average from .367 to .366. They show .367 in the museum (as does the Hall of Fame in Cooperstown). Those discrepancies aside, she was quite proud of Cobb's accomplishments and about the Museum itself. She should be; I would certainly recommend a visit to this museum for any baseball fan.
The gift shop has plenty to offer as well. I had to buy a cap, a magnet, and a shirt for both me and Paul (because he wrote in my notebook that I had to!).
Bottom line – I had a great experience visiting this great museum and spending time talking to a great person that went out of her way for me.

Basic trip facts:
-Miles traveled – 793 via Car (Totals: Driving – 14,191, Subway - 20, Air - 3,196, Total – 17,427)
-States, provinces and/or commonwealths passed through – Florida, Georgia, South Carolina, (Totals: States - 37, Provinces – 0, Commonwealths - 1)
-Home team record to date – 11 wins, 13 losses
-Record of "team I was routing for" to date – 9 wins, 15 losses
-Lodging – Royston, Georgia (7/19), Roanoke, Virginia (7/20)