Yogi Berra Stadium, Museum & Learning Center

Little Falls, NJ
American Defenders of New Hampshire vs. New Jersey Jackals
June 13, 2003
By Ken Schlapp
The last baseball museum that was omitted from my 2003 baseball tour was the Yogi Berra Museum & Learning Center. As with all the old stadium sites in New York, it was another place close to home, that I missed. This museum was only 24 miles away from my apartment in Manhattan so I wanted to make sure I got to go there before my home was almost 3,000 miles away in California, which is was to be in January 2010. The exact location of the Museum is on the Montclair State University campus and is adjacent to Yogi Berra Stadium.
I made my first trip to the Yogi Berra Museum on March 3, 2007. Unlike my other visits to baseball museums as a tourist and visitor, this trip I made as a guest speaker. I ran the New York Gotham base Ball Club,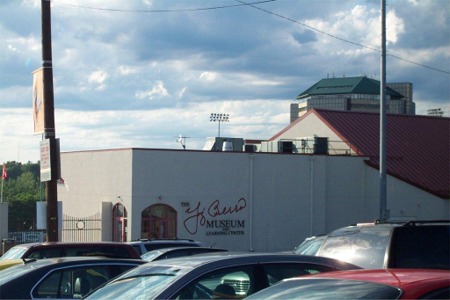 which plays base ball by 1864 rules, as Captain for several years. There are about 200 similar clubs throughout the US and Canada that play base ball as it was at a certain period in time. During 2007, Jim Bouton (of Ball Four Fame), was part of a rival faction of teams that was getting press for playing old time baseball the way it used to be. The only problem with that was that the teams playing in Jim Bouton's affiliation were playing a version of the game that combined different rules that were in effect during different portions of the 19th century. Therefore, they were saying they were playing vintage base ball, while they were actually playing a version of baseball invented in 2007. I have been intentionally switching between "base ball" and "baseball" because baseball was originally two words. Therefore, in the 1800s you would use two words while in modern times it would be one word…hence, the use of one word for Bouton's affiliated teams.
On March 3, 2007, Jim Bouton, Eric Miklich of the New York Mutuals (and 19cbaseball.com), Bradley Shaw of the Flemington Neshanock, and I were invited by the Society of American Baseball Research (SABR) to speak on the subject of Vintage Base Ball and the two factions within. I had spoken to Jim Bouton before, but this was the first time I met him in person. I even met his wife on this day, considering she showed up in support of her husband. I will state that I do like Jim Bouton as a person. I enjoyed my dialogue with him before, during, and after this day. However, our philosophy on the promotion of vintage base ball differs significantly.
The debate between the members of the panel was pretty heated at times. The main point of contention being the desire to portray and present 19th century base ball as accurately as possible for Eric, Bradley, and myself, while Jim Bouton expressed that displaying a period of time (like the roaring 20s) is good enough to get the point across, regardless of the precise inaccuracy. Most of the existing vintage teams work very hard to play and teach the game as accurately as possible pertaining to the specific year in which their team plays. The rules changed significantly from 1845 to 1902 with some subtle and some significant changes every year. Therefore, grouping different rules from a 10 or 20-year period could significantly change the accuracy of the rules as they actually were in base ball history. The typical SABR member is a strict follower of accuracy within the history of the game. Therefore, it was no surprise to us, that the crowd was predominantly in favor of our side of the argument. This made the debate and question-and-answer segment, which followed, quite satisfying.
However,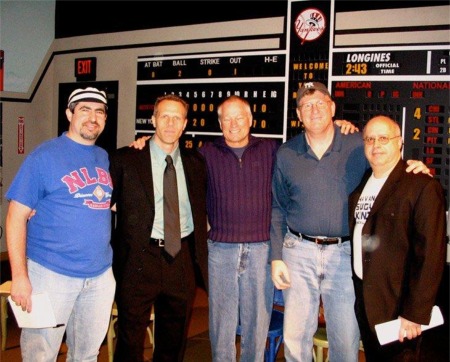 I will never forgive myself for not properly answering one question from the audience. While the tide was strongly on our side, one woman asked, "Why are some of the anti-Bouton faction so nasty?" What I wanted to start my response with was "Thank you for your question Mrs. Bouton…..", but I thought of that too late. We did end up explaining that nastiness was rare, but that we are very passionate about making sure that all of our hard work in historical research is portrayed accurately. In addition, we feel that the set of rules that the Bouton teams were playing by, would undermine all our research with inaccuracies, which would leave a lasting impression on the typical baseball fan since they would take the famous person's portrayal over ours. In fairness to Jim Bouton, he did say that those in attendance were always cordial and moderate about expressing their (our) opinions, but he did receive some nasty communication from others, which is believable.
The best part about being invited to speak was that it led me to see the Museum as well. This gave me the chance to see Yogi Berra's 10 World Series rings, which are on display. It is amazing to think that he was part of 10 championship teams as a player, plus more as a coach. The museum is filled with other memorabilia and photos from Yogi's career and life. However, the most interesting part of the museum to me was the reconstruction of the original scoreboard from Yankee Stadium. In addition, there is a theater that shows baseball films during operation hours and is used for talks, like the one I was part of, and as a classroom for education at other times.
The Museum, as the name indicates, is also a learning center. They offer many sports influenced educational programs for both children and adults, but are mainly geared towards young people. Some of their year-round programs include seminars on leadership, sports camps, and workshops for coaches and parents to help develop proper conduct for athletes and parents, sportsmanship, team building, and improving as athletes. Overall, it is a museum worth visiting as a fan, and a good place to learn for parents and young adults.
Although I was happy to see the museum, I did not get the chance to see a game at the adjacent stadium until July 13, 2009. During 2009, I was on a crusade to see as many baseball games and sporting events as I possibly could before moving to California. Specifically, I wanted to make sure that I got to see all of the local stadiums around the New York Metropolitan area, of which there are quite a few. The following is a list of all the events I made it to in 2009:
Baseball Games:

World Baseball Classic - Toronto - Skydome - 6
World Baseball Classic - San Diego - Petco Park - 6
World Baseball Classic - Los Angeles - Dodgers Stadium - 3 (15 - Total)
Mets - Citifield - 75
Yankees - Yankee Stadium - 9
Cubs - Wrigley Field - 6
Phillies - Citizens Bank Park - 1
Red Sox - Fenway Park - 1
Orioles - Camden Yards - 2
White Sox - Cellular One Field - 1
Angels - Angels Stadium - 1
Mariners - Safeco Park - 1
Giants - AT&T Park - 3
A's - Oakland Colliseum - 1
Blue Jays - Sky Dome - 1 (102 Total MLB Games)
New Jersey Jackals - 1
Newark Bears - 2
Long Island Ducks - 1
Staten Island Yankees - 2
Brooklyn Cyclones - 7
Bridgeport Blue Fish - 1
Scottsdale Scorpians - 1 (16 Total Minor League Games)
St Johns - Citifield - 1 (1 College Game)
134 Total Baseball games Attended

Vintage Base ball:
Gothams (as Player) - 33
Providence Grays (as Player) - 1
Umpiring - 5
39 Total Vintage Base ball Games

Other:
Segal Softball - 4
Coaching Knights with Billy - 1

Total Baseball Games - 178

Basketball:

Knicks - Madison Square Garden - 22
76ers - Spectrum - 1
Wizards - Verizon Center - 1
Hawks - Atlanta - 1
Raptors - Air Canada Center - 1
Nets - Prudential Center - 1
Clippers - Staples Center - 1
Lakers - Staples Center - 1
Total NBA Basketball Games - 29

Hockey:

Thrashers - Atlanta - 1
Black Hawks - United Center - 1
Islanders - Mausoleum - 2
Ducks - Honda Center - 9
Coyotes - Jobing.com Arena - 2
Flyers - Wachovia Center - 1
Rangers - Madison Square Garden - 4
Devils - Prudential Center - 1
Maple Leafs - Air Canada Center - 1 (22 Total NHL Games)
Brooklyn Aces - Floyd Bennett Field - 1
23 Total Hockey Games

Other:
Jets - Giants Stadium - 1
Roller Derby - Hunter College - 1

232 Total Sporting events

Concerts:
Kiss - Nassaue Colliseum - 1
Heaven & Hell - MSG
Facelife Live - NYC

235 Total Events
As indicated above, in the middle of my crusade, I headed over to New Jersey with my friends Billy Piella and Ed Alexander to catch a New Jersey Jackals Game against the American Defenders of New Hampshire on July 13, 2009 for my first game at Yogi Berra Stadium. As I said earlier, it was a short drive from Manhattan, and an amazing feat that I had never gone before. The first thing you see when you get to the stadium's parking lot is the big baseball sign with the silhouette of Yogi and Yogi Berra Stadium across it. It is a simple but elegantly appropriate entrance. The museum is on the right of the entrance and is effectively l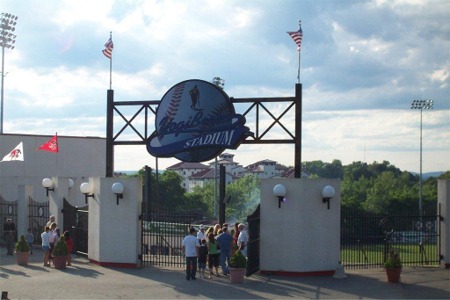 ocated between home plate and 1st base. The stadium is small, but nice. It officially holds 3,784 people, but due to the wide concourses and a grass berm beyond the outfield fence, many more people can come watch a big game. There were only 1,574 in attendance this game, so finding a seat was not a problem.
Yogi Berra Stadium has been the home of the New Jersey Jackals since 1998, when they were a part of the Northeast League. During their time as an Independent League franchise, they were also part of the Northern League from 2000-2002 and in the Can-Am League since 2005. This stadium is also the home of the Montclair State Red Hawks and was the New Jersey Pride of Major League Lacrosse. Since this is Yogi Berra Stadium, and Yogi wore # 8, all of the printed outfield dimensions end in an 8. It is 308 down both lines and 398 to center field. Yogi's # 8 is also retired even though he never played a game for the Jackals. However, he does have his own suite for when he comes to the games, which is attached to the museum. Surprisingly enough, the Jackals do have two other retired numbers as well: # 28 for Joel Bennett, who played and coached for the Jackals for 7 years, and # 4 for Zach Smithlin, who hold many team offensive records (note that his number was retired after my visit).
In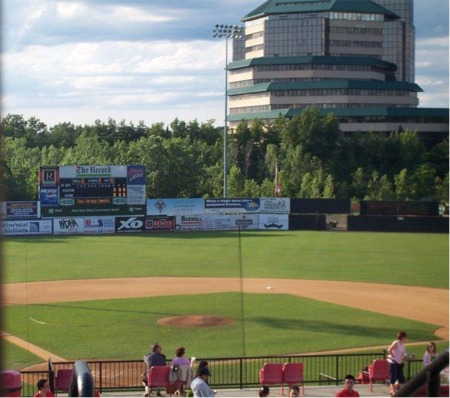 general, this stadium is a good place to catch a minor league game. The seats are comfortable and there is a lot of history built into it with the museum and the retired numbers mentioned above. Unfortunately, I lost my scorecard from this game and do not remember too much from this game other than the camouflage uniforms worn by the American Defenders. The American Defenders name was in honor of the U.S. Armed Forces; due to one of the team's prior owners, Terry Allvord, who the founder of armed forces baseball in the modern era and a retired U.S. Naval Lieutenant. I though their uniforms were pretty cool. However, for a game summary, I will have to rely on an article I found from Can-Am Independent Wire Services:
"The American Defenders of New Hampshire got off to a fast start and held on for an 8-7 victory over New Jersey. New Hampshire used six hits in the first inning to score five times and took an 8-3 lead into the bottom of the eighth inning. The Jackals plated four runs on four hits in the frame but couldn't push the tying run across. A line out left the bases loaded and in the bottom of the ninth, Defenders closer Juan Padilla shut the door. LF Jerod Edmondson and 3B Chris Kelly each homered for New Hampshire. New Jersey 3B Mike Scanzano went 3-for-4 with two RBI and a run scored."
Bottom line – It is definitely worth the trip out to Montclair State University to catch a game and most importantly take a look at all of the Yogi Berra artifacts in the museum.
Basic trip facts:
-Stadium - Not Major League so still at # 38
-Old Stadium Sites visited – None (Total – 39)
-Under construction Stadium Sites visited – None (Total – 3)
-Miles traveled – 48 via Driving (Totals: Driving – 19,897, Subway - 101, Amtrak – 460, Air - 18,028, Total – 38,486)
-States, provinces, Districts and/or commonwealths passed through – New York & New Jersey (Totals: States – 48, Provinces – 2, Districts – 1, Commonwealths - 1)
-Seats – Field between home and 3rd base
Prices: Parking – Free - I took the subway, Beer – ??, Hot Dogs – ??, Program (including pencil) – ??, Souvenir Soda Cup – ??
-Credit Card giveaway – None
-First Pitch - 7:10 PM
-Results: American Defenders 8, Jackals 7, W – Nick Asselin, L – Stuart Pomeranz, S – Juan Padilla
-Home team record to date – 27 wins, 21 losses
-Record of "team I was routing for" to date – 20 wins, 28 losses
-Attendance – 1,574
-Lodging – Home
Note: permission from Eric Miklich of 19cbaseball.com to use the Photo with Jim Bouton.