ANGEL STADIUM MERCHANDISE

Anaheim Angel Stadium Aerial Poster


Los Angeles Angels Game-Used Base Stadium Collage


Angel Stadium City Print


Ballparks of Major League Baseball Poster


Angel Stadium Photo



Angel Stadium Infield Dirt Panoramic Photo Mint


Los Angeles Angels Ballpark Map Framed Collage w/Game Used Dirt



Angel Stadium Blueprint Poster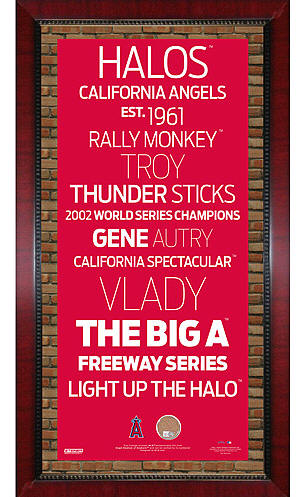 Los Angeles Angels
Subway Art


Angel Stadium Poster


Angel Stadium Ticket Frame
---
More Angel Stadium Items
Other Ballpark Items
ANGEL STADIUM

ANAHEIM, CA

For nearly five decades Anaheim, CA has been the home to a team and stadium, each, with three different names. The nickname, the Angels, has remained the same but the stadium has changed dramatically since its opening. The Angels began playing in Los Angeles in 1961 as an expansion franchise, founded by owner Gene Autry. They intially played at Los Angeles' Wrigley Field as a new stadium for the team had yet to be constructed. A number of sites were studied as possible locations for a new stadium for the Angels. The team decided to build a ballpark on a 140 acre site in Anaheim due to its proximity to Disneyland and major freeways. Construction of the stadium, originally known as Anaheim Stadium, began on August 31, 1964. During this time the Angels moved from LA Wrigley Field to Dodger Stadium where they played for four seasons.

With the move to Anaheim, the team changed its name from the Los Angeles Angels to the California Angels. The Angels played their first game at Anaheim Stadium on April 19, 1966 against the Chicago White Sox. The three tier stadium had 43,204 seats that stretched from the right field foul pole to homeplate and around to the left field foul pole. Anaheim Stadium instantly became known as the "Big A", because of the A-frame scoreboard, topped with a giant halo, that was behind the outfield wall. The $1 million, 230 feet tall scoreboard was the largest built at the time. Original dimensions at Anaheim Stadium were 333 ft. (left), 404 ft. (center), and 333 ft. (right).

Since its opening in 1966 Anaheim Stadium had been the home to many other events other than baseball, including football. In the 1970s the Los Angeles Rams (NFL) began looking to move to Anaheim Stadium from the Los Angeles Coliseum. Anaheim Stadium was expanded by the 1980 season, becoming a multipurpose stadium, home of the Angels and Rams. The stadium was enclosed as nearly 23,000 seats were added increasing the seating capacity to 65,158. A new scoreboard was installed on the facade of the outfield roof because the "Big A" scoreboard was moved to the parking lot. New executive and media boxes, and a new sound system was added.

By the 1990s the Angels wanted a baseball only stadium, no longer wanting a multiple sport stadium or venue extensively used as an entertainment center.

The team was open to renovating or reconfiguring the stadium. Without a renovated Anaheim Stadium, the Angels discussed possibly moving to another location in Southern California such as Long Beach. In January 1994 the stadium suffered $4 million in damage from the Northridge earthquake. The 17.5 ton Sony Jumbotron broke from the top of the stadium roof in left field crashing into the upper deck and destroying 800 seats. After the 1994 NFL season, the Rams moved to St. Louis, leaving Anaheim Stadium with one tenant, thus allowing the Angels to reconfigure the stadium back to baseball only. The Disney Corporation bought the Angels in 1996, agreeing to pay for 70% of the $100 million renovation project.

In 1996 renovations began with the removal of all the outfield seats with construction continuing throughout the 1996 and 1997 seasons. Parts of the stadium remained closed during the 1997 season decreasing the capacity to 33,000 as seats behind homeplate and the entire club level were closed.

Today replacing the 20,000 seats in the outfield are bleacher seats, a video display board, an out of town scoreboard below the right field seats and bullpens. In left centerfield is the "California spectacular" where geysers erupt and a stream cascades down a mountainside covered with real trees and artificial rocks. All of the multicolored seats were replaced by green seats. The exterior of the stadium was renovated

ANGEL STADIUM
SEATING CHART

as the concrete structure and ramps were painted green and a gathering plaza was constructed outside the stadium with two giant Angel hats. Anaheim Stadium was renamed Edison International Field in 1997 after a deal was completed with Edison International Power for the naming rights. Not only was the ballpark renamed, but the team was renamed the Anaheim Angels. With a new capacity of approximately 45,113, the renovated stadium was completed by April 1, 1998. After the 2003 season Edison International and the Angels ended the naming rights agreement. The stadium is now known as Angel Stadium of Anaheim. In 2005, the team reverted back to their original name, the Los Angeles Angels. Angel Stadium has many amenities including the Pepsi Perfect Game Pavilion, dugout level seating, and three club restaurants: The Knothole Club (sports bar located on the club level down the right filed line), The Diamond Club (an upscale restaurant with outdoor seating), and the Homeplate Club (overlooks the main entrance of the ballpark). Today, Angel Stadium has the look and feel of all of the other retro ballparks built within the past 20 years. The stadium has all the amenities and entertainment options that any fan would want. A visit to Angel Stadium is a must for any baseball fan.

FACTS & FIGURES

-Tenant: Los Angeles Angels
-Capacity: 45,493
-Surface: Grass
-Cost: $24 Million, $117 Million (renovations)
-Opened: April 19, 1966
-Dimensions: 330-L, 387-LC, 400-C, 370-RC, 330-R
-Architect: N. Herzberg, R. Stern
-Owner: City of Anaheim
-Former Name(s): Anaheim Stadium (1966-'97), Edison Int'l Field ('97-2003)
-Naming Rights: None - Named after the Angels
-Public Financing: 100% (original), 25% (renovations) at $30 million
-Private Financing: $75% (renovations) at $87million
-Angel Stadium Seating Chart
-Home Dugout: Third Base
-Angel Stadium Ground Rules
-Directions & Parking
-Fan Experiences

2016 ANGELS SCHEDULE

Monday

Tuesday
Wednesday
Thursday
April 4, 2016
vs
Angel Stadium
TICKETS
April 5, 2016
vs
Angel Stadium
TICKETS
April 6, 2016
vs
Angel Stadium
TICKETS
April 7, 2016
vs
Angel Stadium
TICKETS
Friday
Saturday
Sunday
April 8, 2016
vs
Angel Stadium
TICKETS
April 9, 2016
vs
Angel Stadium
TICKETS
April 10, 2016
vs
Angel Stadium
TICKETS

Complete 2016 Los Angeles Angels Schedule

CURRENT WEATHER AT ANGEL STADIUM

MAP & DIRECTIONS TO ANGEL STADIUM

Address: 2000 Gene Autry Way, Anaheim, CA 92806


HOTELS NEAR ANGEL STADIUM
ANGEL STADIUM PICTURES


Click to Enlarge Pictures - Buy Your Favorite Angel Stadium Pictures Here!

Get Tickets Here: Angel Stadium Tickets - Los Angeles Angels Tickets

LOS ANGELES ANGELS MERCHANDISE


The Magical Comeback at Angel Stadium Panoramic Poster



Angels Earn Their Wings 2002 World Series Champs

Panoramic Poster

MEMORABLE MOMENTS
AT ANGEL STADIUM

World Series: 2002

All Star Game Site: 1967, 1989 & 2010

Don Sutton's 300th career win on June 18, 1986

George Brett's 3,000 hit on September 30, 1992.

Two no hitters by Nolan Ryan in 1974 and 1975.

Reggie Jackson's 500th career homerun.

No-hitter by pitcher Jered Weaver on May 2, 2012.