GLOBE LIFE PARK MERCHANDISE

Ballparks of Major League Baseball Poster


Globe Life Park Ballpark Blueprint Poster


Globe Life Park Infield Dirt Panoramic Photo Mint


Ballpark in Arlington Stadium Baseball


Globe Life Park Photo


Texas Rangers 2014 Signature Field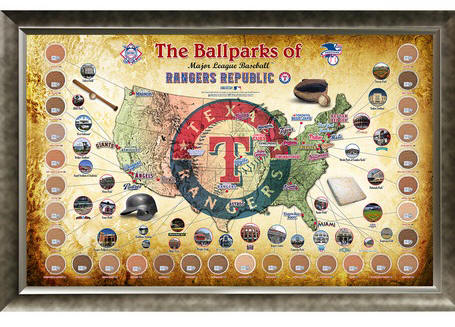 Texas Rangers Ballpark Map Framed Collage w/Game Used Dirt


Ballpark in Arlington City Print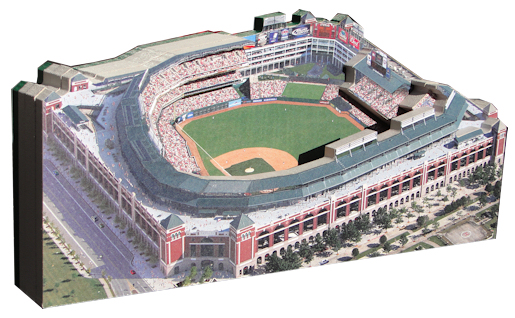 Ballpark in Arlington Texas Rangers 3D Ballpark Replica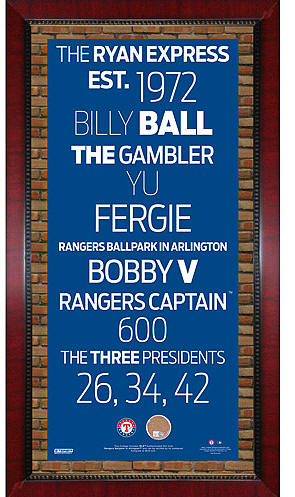 Texas Rangers Subway Art


Rangers Ballpark in Arlington Aerial Poster


Globe Life Park Poster


Globe Life Park Ticket Frame
---
More Globe Life Park Items
Other Ballpark Items
GLOBE LIFE PARK

ARLINGTON, TX

Celebrating its 20th anniversary in 2014, Globe Life Park is a ballpark featuring elements of some of baseball's classic ballparks and provides one of the best game-day experiences for fans. With an aging Arlington Stadium a new ballpark for the Texas Rangers needed to be built. The team began lobbying for a new stadium in the late 1980s and on October 24, 1990, an agreement between the Texas Rangers and the City of Arlington was reached to construct a new stadium. Constructed just a quarter-mile from Arlington Stadium, construction began April 24, 1992 and only took 23 months for the ballpark to be built. Originally named the Ballpark in Arlington, the Rangers played their first game at the ballpark on April 11, 1994 against the Milwaukee Brewers. In May 2004, Ameriquest Mortgage Company bought the naming rights to the ballpark for $75 million over 30 years, giving the ballpark the name, Ameriquest Field in Arlington. However in March 2007, the team announced that they had ended their naming rights deal with Ameriquest and renamed the ballpark, Rangers Ballpark in Arlington. In February 2014 the Rangers announced they had reached an agreement with Globe Life insurance for the naming rights to the stadium over 10 years, thus it was named Globe Life Park at Arlington.

From the exterior to the interior many ideas from bygone ballparks were used at Globe Life Park. As fans approach the ballpark, it resembles Ebbets Field with its red brick facade and arches. Once inside the ballpark, a brick Walk of Fame containing information and rosters of every Texas Rangers team extends around the entire facility. Globe Life Park is the only retro ballpark built that is enclosed as over 49,000 seats and a four story office complex surround the playing field. Great views can be found from just about anywhere in the ballpark. However, the upper deck is the furthest from the action in major league baseball history. The main five tier grandstand extends from behind home plate down to the right field foul pole, and down to and

around the left field foul pole to the office complex in centerfield. In right field is a double decked covered homerun porch, similar to the one that was found at Tiger Stadium in Detroit. Globe Life Park has many modern features including 120 luxury suites divided into two tiers, with each suite named after a MLB All-Star player. The main 42 foot by 120 foot HD video/scoreboard is located above the homerun porch in right field. A 10ft. high manual out of town scoreboard is part of the left field wall. Many amenities can be found at the ballpark including the Rangers Baseball Hall of Fame that contains team artifacts and captures the franchise's history, the Kid's Zone, providing interactive games for kids and the all you can eat seats located in the Upper Home Run Porch. Located in the heart of Texas, the summer heat is often a facts at Rangers games, making Globe Life Park one of the hottest places for fans to attend games.

Over the past three off-seasons the Rangers have spent $35 million on improvements and renovations to the ballpark. After the 2010 season, the audio and video systems were upgraded that included the 5,000 square-foot HD video board. Before the 2012 season a 23,000 square-foot indoor, air-conditioned space, that includes a two story restaurant and sports bar, a kid's zone and a 100 seat Batter's Eye Club was added in centerfield. Aluminum bleachers, originally from Arlington Stadium, on both sides of Greene's Hill were replaced with traditional ballpark seats lowering the total seating capacity by 600. The visitors bullpen was also reconfigured to run parallel to the left centerfield wall. The latest additions, completed before the 2013 season, include an expanded homeplate club, the Capital One Club, adding a row of seats directly behind homeplate, expanding the dugouts and adding a new Rangers merchandise store.


FACTS & FIGURES

-Tenant: Texas Rangers
-Capacity: 49,170
-Surface: Grass
-Cost: $191 Million
-Opened: April 11, 1994
-Architect: HKS Inc, David M. Schwarz Architectural Services
-Owner: Arlington Sports Facility Development Authority
-Former Name(s): Ballpark in Arlington (1994-2004, '07-'13), Ameriquest Field (2005-'06)
-Naming Rights:

Globe Life Insurance

/10 years
-Dimensions: 332-L, 390-LC, 400-C, 377-RC, 325-R
-Public Financing: 80%: bonds, luxury suite sales
-Private Financing: 20%:
-Globe Life Park Seating Chart
-Home Dugout: First Base
-Globe Life Park Ground Rules
-Directions & Parking
-Fan Experiences

2015 RANGERS SCHEDULE

Monday

Tuesday
Wednesday
Thursday
April 6, 2015
at
O.co Colisem
TICKETS
April 7, 2015
at
O.co Colisem
TICKETS
April 8, 2015
at
O.co Colisem
TICKETS
April 9, 2015
at
O.co Colisem
TICKETS
Friday
Saturday
Sunday
April 10, 2015
vs
Globe Life Park
TICKETS
April 11, 2015
vs
Globe Life Park
TICKETS
April 12, 2015
vs
Globe Life Park
TICKETS

Complete 2015 Texas Rangers Schedule

CURRENT WEATHER AT THE BALLPARK

MAP & DIRECTIONS TO GLOBE LIFE PARK

Address: 1000 Ballpark Way, Arlington, Texas 76011


PARKING AT GLOBE LIFE PARK
MEMORABLE MOMENTS
AT GLOBE LIFE PARK

World Series: 2010, '11

All Star Game: 1995

Kenny Rogers perfect game on June 28, 1994.

First interleague game ever in baseball on June 12, 1997.

Silver Slugger Award winner Josh Hamilton in 2008.

Ian Kinsler hits for the cycle and has six hits on April 15, 2009.