BUSCH STADIUM MERCHANDISE

Ballparks of Major League Baseball Poster


2015 St. Louis Cardinals Signature Field Poster


Busch Stadium Poster


Busch Stadium Ballpark Blue Print


Busch Stadium Photo


Busch Stadium Aerial Poster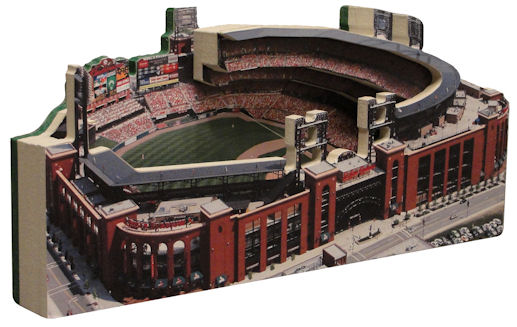 Busch Stadium St. Louis Cardinals 3D Ballpark Replica


Busch Stadium City Print


St. Louis Cardinals Ballpark Map Framed Collage w/Game Used Dirt


Busch Stadium Infield Dirt Panoramic Photo Mint


Busch Stadium Ticket Frame
---
More Busch Stadium Items
Other Ballpark Items
BUSCH STADIUM

ST. LOUIS, MO

It's a sunny afternoon in St. Louis, you are sitting in the upper deck at Busch Stadium, where you not only are watching one of the best baseball teams, but have views of the St. Louis skyline and the Gateway Arch, one of the most iconic structures in America. Cardinals baseball has been played in downtown St. Louis since 1966 and the club has played at three different ballparks known as Busch Stadium. The Cardinals first played at Sportsmans Park (renamed Busch Stadium in 1953) in North St. Louis, then moved to downtown St. Louis and into the circular, multipurpose Busch Stadium in 1966. The second Busch Stadium was not only home to the Cardinals, but to many other events including the St. Louis Cardinals NFL team before moving to Arizona. Busch Stadium was extensively remodeled in the 1990s, making it one of the best stadiums in baseball, even though it remained an enclosed stadium. However, in the late 1990s the Cardinals began to seek construction of a new stadium as ownership wanted to increase revenue from additional amenities such as luxury suites and club seats that old Busch Stadium lacked.

Fans and ownership agreed that the most logical place for a new ballpark for the Cardinals was in downtown St. Louis. However, the Cardinals struggled to receive support from the city and began exploring alternative options East of the Mississippi River in Illinois at a location near the Gateway International Raceway by 2000. The Cardinals across the river in Illinois made little sense to anyone and by June 2001 fans rejoiced as the Cardinals and the State of Missouri signed a contract the construct a new ballpark in downtown St. Louis adjacent to Busch Stadium. Construction began in December 2003 and in August 2004 the Cardinals and Anheuser-Busch agreed on a 20 year naming rights contract to keep the Busch Stadium name alive. Busch Stadium is owned by the Cardinals and was privately financed using a combination of private bonds that the team is required to repay, bank loans, cash from the owners of the Cardinals and a long-term loan from St. Louis County.

The St. Louis Cardinals played their first game at Busch Stadium against the Milwaukee Brewers on April 10, 2006. As fans approach the ballpark they see a facade consisting of brick and steel, with arched openings at the main entrances, with the arches reminisce of nearby warehouses. Busch Stadium has a seating capacity of 46,700 that consists of three main seating decks with the main concourse, loge concourse, and terrace concourse levels. Bleachers are found in the both left and right field providing fans a different view of the action on the field. For the first three months of its opening Busch Stadium's grandstand in left field was under construction as the new stadium overlapped the old Busch Stadium site and could not begin until the old stadium was completed demolished.

As fans roam the large open concourses and take their seat to watch the Cardinals, they have one of the best views found in any ballpark. Beyond the outfield is the skyline of downtown St. Louis and the Gateway Arch. All the concourses are open including the upper level to allow fans views of the field. The main scoreboard is located above the seating area in right-centerfield with an out of town scoreboard to the right of the main scoreboard. The bullpens are found in left and right centerfield. From nearly anywhere in the ballpark fans have magnificent views of downtown St. Louis and the Gateway Arch.

BUSCH STADIUM
SEATING CHART

Busch Stadium has many gathering and party areas including the US Cellular Family Pavilion where fans can enjoy interactive games and activities, the Coca-Cola Rooftop Deck and the Backstop Bar.

A new addition came to Busch Stadium in 2014. Beyond centerfield of Busch Stadium, on the site of the old Busch Stadium is the Ballpark Village. Phase I of the village opened in 2014 and includes a three-story, 30,000 square foot building containing the St. Louis Cardinals Hall of Fame Museum and Cardinal Nation Restaurant. 300 seats are located atop allowing fans to watch the Cardinals in action from 500 feet away. Also included in Phase I is the Budweiser Brew House, showcasing Anheuser-Busch's connection to the franchise featuring a beer garden and 100 different beers. In addition Live! at Ballpark Village and PBR St. Louis are a part of the Ballpark Village.

St. Louis Cardinals fans are some of the most passionate fans in baseball as the Cardinals continually attract over three million fans to Busch Stadium each season. Not only have the Cardinals won the NL pennant three seasons since moving into Busch Stadium: 2006, 2011 and 2013, but have one of the best ballparks in baseball with its setting in downtown St. Louis and views of the iconic St. Louis arch.

FACTS & FIGURES

-Tenant: St. Louis Cardinals
-Capacity: 46,700
-Surface: Grass
-Cost: $411 Million
-Opened: April 10, 2006
-Dimensions: 336-L, 375-LC, 400-C, 375-RC, 335-R
-Architect: HOK Sport
-Owner: St. Louis Cardinals
-Former Name(s): None
-Naming Rights: Anheuser-Busch, 20 years contract through 2025
-Public Financing: 12%: Loan from St. Louis County
-Private Financing: 88%: $90.1 from Cardinals, $200.5 million bonds, naming rights agreement
-Busch Stadium Seating Chart
-Home Dugout: First Base
-Busch Stadium Ground Rules
-Directions & Parking
-Fan Experiences

2015 CARDINALS SCHEDULE

Monday

Tuesday
Wednesday
Thursday
April 27, 2015
vs
Busch Stadium
TICKETS
April 28, 2015
vs
Busch Stadium
TICKETS
April 29, 2015
vs
Busch Stadium
TICKETS
April 30, 2015
vs
Busch Stadium
TICKETS
Friday
Saturday
Sunday
May 1, 2015
vs
Busch Stadium
TICKETS
May 2, 2015
vs
Busch Stadium
TICKETS
May 3, 2015
vs
Busch Stadium
TICKETS

Complete 2015 St. Louis Cardinals Schedule

CURRENT WEATHER AT BUSCH STADIUM

MAP & DIRECTIONS TO BUSCH STADIUM

Address: 700 Clark Street, St. Louis, MO 63102


HOTELS NEAR BUSCH STADIUM
BUSCH STADIUM PICTURES


Click to Enlarge Pictures - Buy Your Favorite Busch Stadium Pictures Here!

Get Tickets Here: Busch Stadium Tickets - St. Louis Cardinals Tickets

ST. LOUIS CARDINALS MERCHANDISE


Bottom of the Ninth at Busch Stadium Panoramic Poster

First Pitch at Busch Stadium Panoramic Poster

MEMORABLE MOMENTS
AT BUSCH STADIUM

World Series: 2006, '11, '13

All Star Game: 2009

Starting pitcher Mark Mulder earned a win and hit a homerun in the first major league game at Busch Stadium.

2008 & 2009 MVP Albert Pujols.

Gold Glove winners Albert Pujols (2006, '10), Yadier Molina (2008-'13), Adam Wainwright (2009, '13).